Online:Captain Telomure
The UESPWiki – Your source for The Elder Scrolls since 1995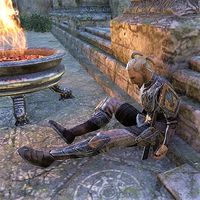 Captain Telomure is an Altmer who can be found outside of Tor-Hame-Khard.
Related Quests
[
edit
]
Quest-Related Events
[
edit
]
Retrieve the pearl.
"So you return to me alone. I... the pearl? Is it destroyed?

I destroyed the pearl, but I was unable to save your squad.

"I knew I was sending them to their deaths, but still. I couldn't let Avanaire get away. If not for you, the surrounding towns would have been overrun with yaghra. You've saved many today... even if some were lost. Here, take this for your service."
Complete the quest.
"Don't worry about me. I may not be fit enough to fight, but I can still walk. I'll head to the closest town and make my report. Just need a moment to catch my breath first."
If you found Avanaire's journal:
I found Justiciar Avanaire's journal.

"Ah, venom words dripped from the tongue of a traitor. Tell me, did you learn anything useful? Something I should add to my report?"

She sold the pearl to pay off her sister's drug debt.

"Do you expect my heart to bleed at such a story? Avanaire betrayed her family ten-fold by besmirching their name. She betrayed her Queen, her nation, her comrades. My soldiers, good soldiers, were killed. For what? An addict's debt?"

Avanaire feared her sister would be killed.

"And so she weighed the life of one greater than the deaths of many. I doubt this sentimental tidbit will change anything. Her name shall never be honored by her descendants. She'll be an outcast, even in death. The greatest dishonor."
Captain Telomure remains on the steps of Tor-Hame-Khard long after the completion of the quest.