Online:Bastibien Dencent
The UESPWiki – Your source for The Elder Scrolls since 1995
Bastibien Dencent
Home City
Evermore
Race
Breton
Gender
Male
Reaction
Friendly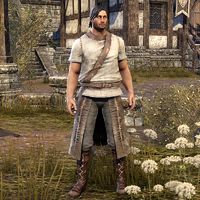 Bastibien Dencent is a Breton found in the city of Evermore near the city well, he cannot be spoken or interacted with.
Dialogue
[
edit
]
Occasionally he can be overheard making conversation with Zizou Douar about the state of Evermore.
Zizou Douar: "I had to dig three more crows out of my chimney flue this morning. We may have suffocated if not for the dog barking."
Bastibien Dencent: "Believe me, I can empathize. I've found bird droppings in my porridge twice in the last week."
Zizou Douar: "I've never seen the like. What could be causing it?"
Bastibien Dencent: "Witchcraft I should think. Or maybe something with the weather. Who knows—I'm hardly a scholar."
Zizou Douar: "Well I'm off to Shara's shop to buy a bow and arrow."
Bastibien Dencent: "Are you sure that's wise? If there truly is a hex on this town, I'd give those crows a wide berth."
Zizou Douar: "Perhaps you're right. Maybe I'll just buy a cat and see what happens."