Online:Ancestral Ties
The UESPWiki – Your source for The Elder Scrolls since 1995
This page is currently being rewritten as part of the Online Quest Project.
The page is being both written and checked. All users are welcome to make changes to the page. If you make a change that is relevant to the project, please update this template accordingly, and make sure you have observed the project guidelines.

| | | | | |
| --- | --- | --- | --- | --- |
| | | | | |
A Dark Elf named Drelyth Hleran requested my aid in finding his family's lost grave site. He believes the Ashlanders camped near Ald'ruhn might know more about the lost tomb, but the tribes only share their secrets with those who earn their respect.
Quick Walkthrough
[
edit
]
Speak to Drelyth Hleran just outside Ald'ruhn.
Receive the Farseer's blessing.
Gather offerings for the four great Ashlander tribes.
Place the offerings and speak to the tribe's Wise Woman.
Find the tomb.
Speak to Drelyth's ancestor and pay respects at the shrines.
Take the ancient Hleran family heirloom and deliver it to Drelyth.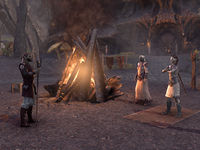 Quest Stages
[
edit
]
Ancestral Ties
Finishes Quest
Journal Entry
To earn the Ashlander's respect, I must honor the First Ashkhans. I should seek out Farseer Kuamta to receive her blessing.

Objective: Receive the Farseer's Blessing

Each of the four great tribes require a unique offering. I must claim four rare objects to place before the cairns of the First Ashkhans.

Objective: Obtain an Ashen Fern

Objective: Obtain the Weapon of an Exiled Ashlander

Objective: Obtain the Bones of a Fallen Guar

Objective: Obtain a Jeweled Cuttle

I claimed all four offerings. I should place them near the four cairns of the First Ashkhans.

Objective: Place the Ahemmusa Offering

Objective: Place the Erabenimsun Offering

Objective: Place the Urshilaku Offering

Objective: Place the Zainab Offering

I should seek out the tribe's Wise Woman. She might know more about the Hleran Ancestral Tomb.

Objective: Talk to the Tribe's Wise Woman

According to the Wise Woman Asani, the Hleran Ancestral Tomb may be nearby. Unfortunately, angry spirits lurk within. I should give the news to Drelyth.

Objective: Talk to Drelyth Hleran

I agreed to search the nearby ancestral tomb, but I'll have to find it first.

Objective: Find the Ancestral Tomb

I discovered the ancestral tomb the Wise Woman told me about. Now I must look for evidence of a Hleran family connection.

Objective: Search the Tomb

One of Drelyth's ancestors, Dranoth, challenged me to prove the purity of my intent. I should pay my respects to the Hleran family shrines.

Objective: Pay Respects at the Shrines: 0/4

I paid my respects to the Hleran family shrines and listened to Dranoth's story. I should seek him out in his personal crypt. Apparently, he has more to tell me.

Objective: Enter Dranoth's Burial Chamber

I found Dranoth Hleran's spirit waiting for me in his personal crypt. I should see what he has to say.

Objective: Talk to Dranoth Hleran

Dranoth wants me to take up his ancient spear—a weapon with great symbolic power.

Objective: Take Dranoth's Spear

I must deliver Dranoth's spear, Calderas, to his descendant, Drelyth Hleran.

Objective: Deliver the Spear to Drelyth

I should talk to Drelyth about what he plans to do now that he knows his family's story.

Objective: Talk to Drelyth Hleran