Online:Aide Diina
The UESPWiki – Your source for The Elder Scrolls since 1995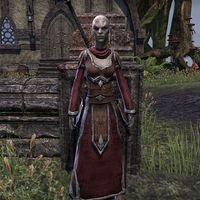 Aide Diina is a Dunmer found in the city of Stormhold. She can start the quest Three Tender Souls by directing you to Vicecanon Hrondar. She also offers some information about the vicecanons and Stormhold.
Related Quests
[
edit
]
Quest-Related Events
[
edit
]
Three Tender Souls
[
edit
]
When you approach her, she says, "Will we ever feel safe again?" Talk to her and she'll tell you about the recent murders in Stormhold:
"A new face? You'll need to speak with Vicecanon Hrondar.
It's for your own safety, I assure you."
Why? What's going on?
"In a word ... murder. You've arrived at a delicate time. Pray you don't bring more troubles to our doorstep.
The vicecanons would know of any newcomers."
Am I under suspicion?
"Should you be?
Speak to Vicecanon Hrondar in the Guild Halls. And stay alert. You wouldn't want to be the next victim."
I'll go speak to Vicecanon Hrondar.
You can continue the conversation to learn about the vicecanons and Stormhold:
"Tarry no longer. The vicecanons await your introduction in the Guild Hall."
What is a vicecanon?
"The vicecanons represent each of the Pact's territories: Skyrim, Morrowind, and Black Marsh. Each were forged in the Akaviri War, and are competent in both strategy and diplomacy.
Together, they oversee the safety and prosperity of Shadowfen."
Who are the vicecanons?

"Vicecanon Hrondar hails from Skyrim, and is the most vocal of the three. Vicecanon Servyna came from Morrowind after the Pact's unification.
Vicecanon Heita-Meen is also a relative newcomer to Black Marsh. Her history may be in question, but her aptitude certainly is not."

What can you tell me about Stormhold?