Oblivion:Telepe
The UESPWiki – Your source for The Elder Scrolls since 1995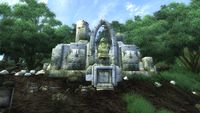 Telepe is a small Ayleid ruin northwest of Leyawiin containing bandits (quest-related). It contains only one zone, Telepe.
Related Quests
[
edit
]
Exterior
[
edit
]
The exterior is located at coordinates: Tamriel 18, -33
This location's map marker (M on map) is named Telepe (editor name TelepeMapMarker). The entrance door is SW of the marker, 60 feet away.
0-1 Bandit Hedge Wizard is near the entrance
0-1 Bandit Bowman is near the entrance, atop the ruin. They might be difficult to reach, so use alternative methods to deal with them.
The following plants can be found near the entrance: 4 Clouded Funnel Cap plants
Shezarr Doom Stone is at location S on map
1 bedroll is at b
Zone 1: Telepe

[

edit

]

One of the smaller Ayleid ruins found in Cyrodiil, this Ayleid ruin is overrun by Black Bow Bandits, and is where their leader, Black Brugo, visits. However, Black Brugo, as well as his two named henchmen, will only appear once the related quest has reached this stage.
After heading down the stairs you enter from, there is an intersection connecting the three areas of this ruin. To the left is a small chamber containing the leveled boss chest (B on map) with no enemies guarding it as well as a push block (cyan dot on map) opening a gate in the front corridor and some bedrolls. To the right is another room, but this area is populated by two Black Bow bandits. Forwards is a small chamber blocked by gate C that will open once you've pressed the previously-mentioned push block. Behind it is a small chamber that contains nothing until the related quest has reached this stage, in which an Ayleid cask (Q) containing 300 gold and a small note will appear on the altar in here.
Occupants:
Treasure:
Doors and Gates:
There is one door (at Out) in/out of this zone, leading outside
1 Iron Gate (opened remotely) at C
Other:
3 bedrolls at locations b on map