Oblivion:Imperial Legion Archer
The UESPWiki – Your source for The Elder Scrolls since 1995
This page or section is incomplete. You can help by adding to it.
Needs standard NPC summary table
For more information, see the help files, the style guide, and this article's talk page.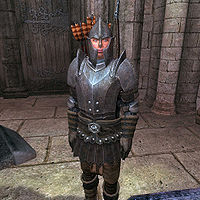 Imperial Legion Archers are essentially Imperial Legion Soldiers with a bow. They tend to have lower blade skill and higher marksman skill than the guards.
The Imperial Legion evidently relies more on their blades than their bows, as only four archers exist in Cyrodiil. Though there are foresters and Imperial Guards that carry bows, they are not classified as archers as their stats are more blade-based. One follows you from the Chapel of Akatosh during The Battle for Castle Kvatch (BaseID 000732d1) and is the only one who respawns. Three others are present during Light the Dragonfires.
The archer you meet in Kvatch wears a Legion Cuirass and Legion Helmet with leather boots and gauntlets. He wields only a steel bow. The three others all wear a full set of Legion Armor and have a steel shortsword in addition to the bow. All four use steel arrows.