Oblivion:Bendu Olo
The UESPWiki – Your source for The Elder Scrolls since 1995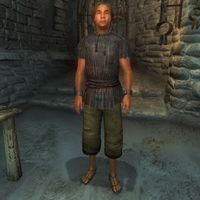 In the Construction Set, the default player-character model is referred to as Bendu Olo. His name, race, gender, and appearance are subject to change during character creation. The name "Bendu Olo" also appears as the player-character's name in promotional footage and images.
Bendu Olo's name is a reference to a former King of Anvil. It is also used as the name of the player-characters of Morrowind, Skyrim, and Blades in promotional footage and images.
Using the console to spawn a copy of this NPC (through the "PlaceAtMe" command) creates a duplicate of your current character with all your abilities, faction affiliations, and spells, but only equipped with the default prison gear. Clicking on your character while in the console and typing "CreateFullActorCopy" creates a complete copy of this NPC, with the previously mentioned attributes and your appearance, stats and factions and your current inventory.
Bendu is the only character that can be selected through the prid command in the console using his editor ID (player).
The Reference Bug would rarely reset the player-character's stats, race, gender, and appearance back to Bendu's.
If you replace data\menus\chargen\race_sex_menu.xml with a blank file, the New Game button will skip the race menu and simply spawn you as Bendu.
The form IDs 00000014 and 00000007 are the default formIDs in the Gamebryo and Creation engines for the player character.
If you set the player's name to "Bendu Olo" during initial character creation, you will have to choose a new name or re-enter it should you revise your character before leaving the sewers.