Morrowind:Aryni Orethi
The UESPWiki – Your source for The Elder Scrolls since 1995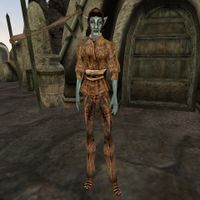 Aryni Orethi is a Dark Elf commoner living in Ald'ruhn. She wanders around the street in front of her house. You may be able to convince her to move to Indarys Manor in order to help the men there find wives during the construction of your Stronghold.
She is wearing a common shirt with matching pants and shoes and carries a key to her chest. Aside from her natural resistance to fire and the sanctuary provided by her ancestors, she knows no spells.
Journal entries for the unused House Redoran "Velsa Orethi" quest note that Velsa Orethi is her sister.
Related Quests
[
edit
]
Quest-Related Dialogue
[
edit
]
If you ask without trying to persuade her first, she will respond negatively and her Disposition will drop 10 points:
"Do you think I'd marry just anyone?"
You must raise her Dispositions for her to express any interest in the offer:
(Disposition at least 60) "I must admit I'm interested in

you 

[sic] offer. But not quite interested enough to accept."
(Disposition at least 90) "Okay. I might as well try looking around Indarys Manor. There certainly aren't any real men around here."
Speaking to her further will get the response:
"You've convinced me, %PCName. I'm moving to Indarys Manor."
She will go to the Manor, and you can speak to her again there:
"Yes, I have

no 

[sic] chosen my husband yet, but I think I will settle down here at Indarys Manor."
Aryni Orethi is a part of the Orethi family, which has their own ancestral tomb.