Lore:Zuuk (place)
The UESPWiki – Your source for The Elder Scrolls since 1995
This page is currently being redesigned for the Lore Places Project (LPP).
The page may need work to meet the standards outlined on the project page.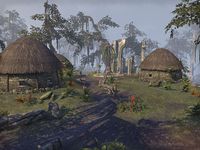 Zuuk was a Kothringi settlement located in the Shadowfen region of Black Marsh. It was founded circa 1E 2920 by Lord Zuuk when he returned to Shadowfen after the death of Emperor Reman Cyrodiil III.[1][2] After five generations of prosperity, the settlement was renamed in his honor, and its original name was lost to time. It was built over the Temple of Sul, a Barsaebic Ayleid settlement which had been sacked during the Alessian Slave Rebellion. The ruins were magically sealed by the villagers to prevent undead emerging to the surface. Like all Kothringi, the inhabitants of Zuuk fell victim to the devastating Knahaten Flu, which wiped out the village in a single week in 2E 561. The sole survivor was a man named Drillk, who had become immune to the Flu by absorbing the power of a keystone that he had found in the Temple of Sul.
In 2E 582, the Aldmeri Dominion invaded Shadowfen in search of the keystones. They set up camp in Zuuk, torturing Drillk and interrogating the spirits of long-dead Kothringi in an attempt to find the keystone. The Ebonheart Pact rescued Drillk, but the Kothringi revealed that taking the keystone's power would kill him. It is unknown if the Pact took his life or not.[3]
References
[
edit
]
^ Into the Temple quest in ESO