Lore:Wasten Coridale
The UESPWiki – Your source for The Elder Scrolls since 1995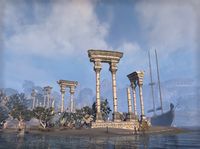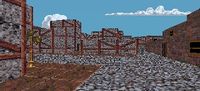 Wasten Coridale (also called Wasten Coraldale)[1] is an island in the Sea of Pearls, off the coast of the Summerset Isles. It is a collection of two islands that contains a complex system of undeground caves and fertile grottos that resemble a wild honeycomb. Many sea creatures such as the Reef Viper or the Salamander live and thrive in these caves. Because of this, there are many fishermen from nearby Summerset Isle that come to Wasten Coridale, for the abundance of harvest.[1]
History
[
edit
]
Many years ago, when there were Dwemer in the Summerset Isles, the island once contained a settlement, which was known for the Hanging Gardens. It was a quadrangular garden that was dedicated to the escape from the Earth Bones.[2] During the Interregnum, the island was invaded by the Storm Sharks, a naval force of Maormer that was present across the Summerset Isle's southwest coast. It was made as a staging ground for an invasion of the mainland.[3] At the time, an angler fleet was stationed at Wasten Coraldale, and it was later ambushed by the Storm Sharks. The sea captain, Curtaros was discovered by a newcomer, who went to the island by the request of the captain's daughter. The two were able to rescue some of their crew members, all the while sabotaging the invasion force and killing the Maormer Commander.[4]
At the same time, there have been several inquiries on Wasten Coraldale. The Divine Prosecution sent newcomers to the island, to deal with the growing and dangerous population of Reef Vipers.[5] The Psijic Order were investigating time breaches across the continent and needed the Augur of the Obscure to identify these breaches. The Augur was recovered on the shores of Wasten Coraldale.[6] During the Imperial Simulacrum in the late Third Era, the village of Wasten Coridale was an active settlement. It was ruled by Lord Kelkemmirel, and it had a rivalry with White Guard.[7]
Gallery
[
edit
]
See Also
[
edit
]
Hanging Gardens — A travel guide to the Hanging Gardens of Wasten Coridale, written in both Dwemeris and Aldmeris
References
[
edit
]
^ a b Wasten Coraldale delve in ESO: Summerset
^ Lost at Sea quest in ESO: Summerset
^ Culling Serpents quest in ESO: Summerset
^ The Psijics' Calling quest in ESO: Summerset
^ Wasten Coridale location and rumors in Arena