Lore:Elysana
The UESPWiki – Your source for The Elder Scrolls since 1995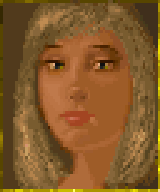 Queen Elysana (born in 3E 389) was the daughter of Queen Carolyna and King Eadwyre of Wayrest. Carolyna died in 3E 392, and a few years later, Eadwyre remarried. Queen Barenziah became Elysana's stepmother, and the princess gained elder step-siblings in Prince Helseth and Princess Morgiah.[1][2]
In the years prior to the Miracle of Peace, the princess became locked in a power struggle with her stepbrother for the throne. The law of succession favored Elysana, but Helseth was now the eldest, and he (and Barenziah) held much influence. While Elysana cultivated an air of innocent vapidity, in reality she had become as ruthless as the prince; among her allies was the influential noble Lord Woodborne, to whom she was betrothed—and who held the key to an artifact of immense power.[3]
This period saw the arrival of an Agent of the Emperor, sent to investigate the mysterious circumstances surrounding the death of King Lysandus of Daggerfall. The Agent was drawn into the siblings' machinations; Helseth hatched a scheme to blackmail Lord Castellian, head of the Elder Council, into changing the law of succession in his favor. Elysana retaliated by manipulating the same Agent into unwittingly helping her assassinate Lord Castellian. The princess later attempted to have the Agent assassinated as well, but this plan failed.[3]
Elysana's plans for the throne were dealt another blow when Lord Woodborne was exposed by the Emperor's Agent as Lysandus' murderer, and killed.[3] However, when King Eadwyre finally died some years after the Warp in the West, Elysana emerged victorious. After ascending to the throne, the new queen banished Helseth and Barenziah from the court of Wayrest.[4]
By the close of the Third Era, Queen Elysana had borne two children by her new royal consort.[5] The queen also forged an alliance with Wayrest's old enemies, the Orcs of Orsinium, and was considered by many contemporaries to be the most feared ruler in western Tamriel.[6]
"Queen Elysana" is mentioned multiple times in the Charwich-Koniinge Letters. However, the letters are purported to have been written in

3E 411-412

, during which time King Eadwyre and Queen Barenziah were still ruling the kingdom.
See Also
[
edit
]
References
[
edit
]
^ Biography of Barenziah, v 3 — Stern Gamboge, Imperial Scribe
^ a b c Events of Daggerfall
^ A Game at Dinner — An Anonymous Spy