Bloodmoon:Karstaag
The UESPWiki – Your source for The Elder Scrolls since 1995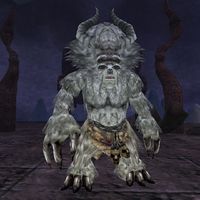 Karstaag is a Frost Giant and a unique special creature who is located in Castle Karstaag. The Skaal have lived in peace with the monster for many years, but have heard nothing from the giant for some time. He resides with the Rieklings, who serve him as their king.
You will meet Karstaag in the Mortrag Glacier, Huntsman's Hall during Hircine's Hunt. He is highly resistant to magical attacks, except for fire, shock, and poison damage.
Related Quests
[
edit
]
Hircine's Hunt: You are now irrevocably involved in the Hunter's Game and it's a fight for survival.
Karstaag has a 5 point Regenerate Health ability, which is canceled after he takes fire damage.
He has an unusually high Reflect rate (50%); be careful what you hit him with.
You can sneak up on Karstaag, with a chance of landing an initial critical hit.
You can get a breather in this fight if you use Calm Creature on him, causing him to walk away. This way, you'll also get another chance for a critical strike.
Karstaag appears in Skyrim's Dragonborn expansion. His skull can be found in a cave not far from the ruins of his old castle, and when placed on his throne summons him for battle.