Blades:Smithy
The UESPWiki – Your source for The Elder Scrolls since 1995
To meet our site's higher standard of quality, this article or section may require cleanup.
The user who placed this here had the following concern:
Tables incomplete, data for levels 6-10 needed and Data for crafting and materials incomplete
To leave a message about the cleanup for this article, please add it to this article's talk page.
The smithy is a Town building used to craft Weapons and Armor using ingots. It is owned and operated by Lond after being rebuilt as part of the quest, Rebuilding the Smithy.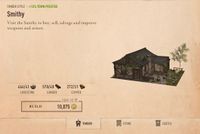 Here are the costs to build and then upgrade the base Timber Smithy. Stone available at Town level 2 and Castle available at Town level 5
| Level | Limestone | Lumber | Copper | Gold | Build Time | Destroy Cost |
| --- | --- | --- | --- | --- | --- | --- |
| 1 | 41 | 48 | 31 | 575 | 5S | 25 |
| 2 | 36 | 43 | 27 | 1,115 | 10M | 25 |
| 3 | 56 | 67 | 42 | 2,240 | 20M | 25 |
| 4 | 76 | 90 | 57 | 4,605 | 1H 20M | 25 |
| 5 | 88 | 105 | 66 | 9,470 | 2H 40M | 25 |
| 6 | 126 | 151 | 95 | 19,500 | 5H 20M | 500 |
| 7 | 180 | 215 | 135 | 40,640 | 10H 40M | - |
| 8 | 306 | 366 | 230 | 84,425 | 21H 20M | 500 |
| 9 | 432 | 516 | 324 | 175,495 | 1D 18H | - |
| 10 | 576 | 688 | 432 | 364,920 | 84H | - |
Smithing Materials

Item
Gold
Item
Gold
Charurus Chitins
-
Moonstone
-
Daedra Hearts
-
Orichalcum
-
Dragon Bone
-
Pelts
-
Dwarven Metal
-
Quicksilver
-
Ebony
-
Scrib Chitins
-
Iron
-
Silver
-
Leather
-
Stalhrim
-
Malachite
-
Steel
-
Weapons

Item
Type
Gold
Item
Type
Gold
Item
Type
Gold
Item
Type
Gold
Item
Type
Gold
Item
Type
Gold
Longsword
War Axe
Mace
Dagger
Hand Axe
Light Hammer
Iron
-
Iron
-
Iron
-
Iron
-
Iron
-
Iron
-
Steel
-
Steel
-
Steel
-
Steel
-
Steel
-
Steel
-
Orcish
-
Orcish
-
Orcish
-
Orcish
-
Orcish
-
Orcish
-
Dwarven
-
Dwarven
-
Dwarven
-
Dwarven
-
Dwarven
-
Dwarven
-
Elven
-
Elven
-
Elven
-
Elven
-
Elven
-
Elven
-
Glass
-
Glass
-
Glass
-
Glass
-
Glass
-
Glass
-
Ebony
-
Ebony
-
Ebony
-
Ebony
-
Ebony
-
Ebony
-
Daedric
-
Daedric
-
Daedric
-
Daedric
-
Daedric
-
Daedric
-
Dragonbone
-
Dragonbone
-
Dragonbone
-
Dragonbone
-
Dragonbone
-
Dragonbone
-
Item
Type
Gold
Item
Type
Gold
Item
Type
Gold
Greatsword
Battleaxe
Warhammer
Iron
-
Iron
-
Iron
-
Steel
-
Steel
-
Steel
-
Orcish
-
Orcish
-
Orcish
-
Dwarven
-
Dwarven
-
Dwarven
-
Elven
-
Elven
-
Elven
-
Glass
-
Glass
-
Glass
-
Ebony
-
Ebony
-
Ebony
-
Daedric
-
Daedric
-
Daedric
-
Dragonbone
-
Dragonbone
-
Dragonbone
-
Armor

Item
Type
Gold
Item
Type
Gold
Item
Type
Gold
Item
Type
Gold
Item
Type
Gold
Shield
Armor
Helmet
Gauntlets
Boots
Hide
-
Hide
-
Hide
-
Hide
-
Hide
-
Iron
-
Iron
-
Iron
-
Iron
-
Iron
-
Leather
-
Leather
-
Leather
-
Leather
-
Leather
-
Steel
-
Steel
-
Steel
-
Steel
-
Steel
-
Chitin
-
Chitin
-
Chitin
-
Chitin
-
Chitin
-
Silver
-
Silver
-
Silver
-
Silver
-
Silver
-
Orcish
-
Orcish
-
Orcish
-
Orcish
-
Orcish
-
Dwarven
-
Dwarven
-
Dwarven
-
Dwarven
-
Dwarven
-
Elven
-
Elven
-
Elven
-
Elven
-
Elven
-
Quicksilver
-
Quicksilver
-
Quicksilver
-
Quicksilver
-
Quicksilver
-
Glass
-
Glass
-
Glass
-
Glass
-
Glass
-
Chaurus
-
Chaurus
-
Chaurus
-
Chaurus
-
Chaurus
-
Stalhrim
-
Stalhrim
-
Stalhrim
-
Stalhrim
-
Stalhrim
-
Ebony
-
Ebony
-
Ebony
-
Ebony
-
Ebony
-
Daedric
-
Daedric
-
Daedric
-
Daedric
-
Daedric
-
There are many items to craft at the Smithy
Weapons
[
edit
]
| Weapon | Iron | | | | Steel | | | | | Silver | | | | | Orcish | | | | |
| --- | --- | --- | --- | --- | --- | --- | --- | --- | --- | --- | --- | --- | --- | --- | --- | --- | --- | --- | --- |
| | Iron Ingots | Gold | Time | | Iron Ingots | Steel Ingots | Gold | Time | | Steel Ingots | Silver Ingots | Gold | Time | | Iron Ingots | Steel Ingots | Orichalcum Ingots | Gold | Time |
| Longsword | 9 | 385 | 20S | | 6 | 9 | 862 | 25M | | 6 | 9 | 1,401 | 50M | | 5 | 6 | 9 | 2,548 | 1H 15M |
| War Axe | 9 | 385 | 20S | | 6 | 9 | 862 | 25M | | 6 | 9 | 1,401 | 50M | | 5 | 6 | 9 | 2,548 | 1H 15M |
| Mace | 9 | 385 | 20S | | 6 | 9 | 862 | 25M | | 6 | 9 | 1,401 | 50M | | 5 | 6 | 9 | 2,548 | 1H 15M |
| Dagger | 8 | 330 | 20S | | 5 | 8 | 737 | 25M | | 5 | 8 | 1,199 | 50M | | 4 | 5 | 8 | 2,184 | 1H 15M |
| Hand Axe | 8 | 330 | 20S | | 5 | 8 | 737 | 25M | | 5 | 8 | 1,199 | 50M | | 4 | 5 | 8 | 2,184 | 1H 15M |
| Light Hammer | 8 | 330 | 20S | | 5 | 8 | 737 | 25M | | 5 | 8 | 1,199 | 50M | | 4 | 5 | 8 | 2,184 | 1H 15M |
| Greatsword | 10 | 440 | 20S | | 7 | 10 | 990 | 25M | | 7 | 10 | 1,606 | 50M | | 6 | 7 | 10 | 2,912 | 1H 15M |
| Battleaxe | 10 | 440 | 20S | | 7 | 10 | 990 | 25M | | 7 | 10 | 1,606 | 50M | | 6 | 7 | 10 | 2,912 | 1H 15M |
| Warhammer | 10 | 440 | 20S | | 7 | 10 | 990 | 25M | | 7 | 10 | 1,606 | 50M | | 6 | 7 | 10 | 2,912 | 1H 15M |
| Weapon | Dwarven | | | | | | Elven | | | | |
| --- | --- | --- | --- | --- | --- | --- | --- | --- | --- | --- | --- |
| | Steel Ingots | Orichalcum Ingots | Dwarven Metal Ingots | Gold | Time | | Silver Ingots | Moonstone Ingots | Quicksilver Ingots | Gold | Time |
| Longsword | 5 | 6 | 9 | 3,949 | 1H 45M | | 5 | 9 | 6 | 6,242 | 2H 30M |
| War Axe | 5 | 6 | 9 | 3,949 | 1H 45M | | 5 | 9 | 6 | 6,242 | 2H 30M |
| Mace | 5 | 6 | 9 | 3,949 | 1H 45M | | 5 | 9 | 6 | 6,242 | 2H 30M |
| Dagger | 4 | 5 | 8 | 3,380 | 1H 45M | | 4 | 8 | 5 | 5,356 | 2H 30M |
| Hand Axe | 4 | 5 | 8 | 3,380 | 1H 45M | | 4 | 8 | 5 | 5,356 | 2H 30M |
| Light Hammer | 4 | 5 | 8 | 3,380 | 1H 45M | | 4 | 8 | 5 | 5,356 | 2H 30M |
| Greatsword | 6 | 7 | 10 | 4,511 | 1H 45M | | 6 | 10 | 7 | 7,137 | 2H 30M |
| Battleaxe | 6 | 7 | 10 | 4,511 | 1H 45M | | 6 | 10 | 7 | 7,137 | 2H 30M |
| Warhammer | 6 | 7 | 10 | 4,511 | 1H 45M | | 6 | 10 | 7 | 7,137 | 2H 30M |
| Weapon | Glass | | | | | | Ebony | | | | |
| --- | --- | --- | --- | --- | --- | --- | --- | --- | --- | --- | --- |
| | Malachite Ingots | Moonstone Ingots | Orichalcum Ingots | Gold | Time | | Ebony Ingots | Malachite Ingots | Dwarven Metal Ingots | Gold | Time |
| Longsword | - | - | - | - | - | | - | - | - | - | - |
| War Axe | - | - | - | - | - | | - | - | - | - | - |
| Mace | - | - | - | - | - | | - | - | - | - | - |
| Dagger | - | - | - | - | - | | - | - | - | - | - |
| Hand Axe | - | - | - | - | - | | - | - | - | - | - |
| Light Hammer | - | - | - | - | - | | - | - | - | - | - |
| Greatsword | - | - | - | - | - | | - | - | - | - | - |
| Battleaxe | - | - | - | - | - | | - | - | - | - | - |
| Warhammer | - | - | - | - | - | | - | - | - | - | - |
| Weapon | Daedric | | | | | | Dragonbone | | | | |
| --- | --- | --- | --- | --- | --- | --- | --- | --- | --- | --- | --- |
| | Daedra Heart | Ebony Ingots | Quicksilver Ingots | Gold | Time | | Dragon Bones | Ebony Ingots | Malachite Ingots | Gold | Time |
| Longsword | - | - | - | - | - | | - | - | - | - | - |
| War Axe | - | - | - | - | - | | - | - | - | - | - |
| Mace | - | - | - | - | - | | - | - | - | - | - |
| Dagger | - | - | - | - | - | | - | - | - | - | - |
| Hand Axe | - | - | - | - | - | | - | - | - | - | - |
| Light Hammer | - | - | - | - | - | | - | - | - | - | - |
| Greatsword | - | - | - | - | - | | - | - | - | - | - |
| Battleaxe | - | - | - | - | - | | - | - | - | - | - |
| Warhammer | - | - | - | - | - | | - | - | - | - | - |
Jewelry
[
edit
]