Blades:Smithy
The UESPWiki – Your source for The Elder Scrolls since 1995
This page or section is incomplete. You can help by adding to it.
Needs style information
For more information, see the help files, the style guide, and this article's talk page.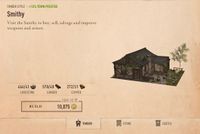 Smithy
A Smithy is a building occupied by a blacksmith. They are constructable during and after Rebuilding the Smithy. It requires two lots. The first one you build is operated by Lond, while any more will be run by a blacksmith.
They will offer an equipment crafting service, a tempering service, and a repairing service. They will also have a selection of smithing materials, weapons, and armor for purchase.
Here are the costs to build and then upgrade the base Timber Smithy. Stone available at Town Level 2 and Castle available at Town Level 5.
| Level | Limestone | Lumber | Copper | Gold | Build Time | Destroy Cost |
| --- | --- | --- | --- | --- | --- | --- |
| 1 | 43 | 50 | 32 | 600 | 5S | 25 |
| 2 | 36 | 43 | 27 | 1,115 | 10M | 25 |
| 3 | 56 | 67 | 42 | 2,240 | 20M | 25 |
| 4 | 76 | 90 | 57 | 4,605 | 1H 20M | 25 |
| 5 | 88 | 105 | 66 | 9,470 | 2H 40M | 25 |
| 6 | 126 | 151 | 95 | 19,500 | 5H 20M | 500 |
| 7 | 180 | 215 | 135 | 40,640 | 10H 40M | 500 |
| 8 | 306 | 366 | 230 | 84,425 | 21H 20M | 500 |
| 9 | 432 | 516 | 324 | 175,495 | 1D 18H | 500 |
| 10 | 576 | 688 | 432 | 364,920 | 84H | (?) |
Castle (Imperial)
[
edit
]