Online:The Whisperer
The UESPWiki – Your source for The Elder Scrolls since 1995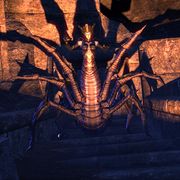 The Whisperer is a powerful Spider Daedra that lives deep within Spindleclutch I. It can cause beings that enter the caves to turn on each other. It serves as the second and final boss of Spindleclutch.
Its unique drops are the Spindlecleave and the Whisperwoe.
Skills and Abilities
[
edit
]
As a boss type creature, the Whisperer is immune to all forms of crowd control effects. As a Daedric creature, the Whisperer is especially vulnerable to Fighters Guild abilities.
Impale

A basic melee attack that does moderate physical damage. If taunted, the boss will be forced to use this ability on the tank only.
Web Blast

The boss spits a green projectile at a player, doing high physical damage and knocking the player back. This attack can be avoided by rolling.
Arachnophobia

The boss spits a blue orb at a player, doing high magical damage and stunning the player. The player also sees many spiders attacking him or her, but that is only a hallucination.
Web Pull[verification needed]

The boss pulls everyone in front of it towards itself using webs. This is usually followed by Daedric Explosion.
Daedric Explosion

The boss charges up a large burst of magic around itself. This attack does high magical damage as indicated by a red circle.
Achievements
[
edit
]
The Whisperer is associated with one achievement.
Related Quests
[
edit
]