Online:Prison Break
The UESPWiki – Your source for The Elder Scrolls since 1995


Silver-Claw found out the Iron Wheel is planning to ship Zeira to Taneth. As acting guildmaster, I've called on the Thieves Guild to do something about it.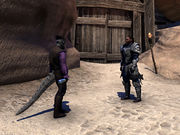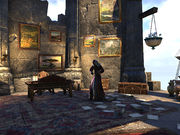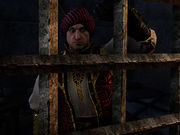 Quick Walkthrough
[
edit
]
Talk to Silver-Claw.
Make preparations for Zeira's rescue.
Head to No Shira Citadel and find a way inside.
Go to Chief Inspector Rhanbiq's office.
Speak to Magnifica Falorah.
Enter No Shira Prison.
Find Zeira's Cell Block.
Decide the former guildmaster's fate.
Rescue Zeira from the prison ship.
Escape No Shira Citadel.
Talk to Zeira at the Thieves Den.
Detailed Walkthrough
[
edit
]
Quest Stages
[
edit
]
Prison Break
Finishes Quest
Journal Entry
I should speak with Silver-Claw in the Thieves Den.

Objective: Talk to Silver-Claw

The Thieves Guild has assembled in the Den. I should speak to each of them and organize Zeira's prison break.

Objective: Organize the Thieves Guild to Rescue Zeira: 0/3

I should bring the Evidence of Nicolas's Treachery with me. It's in the Thieves Den.

Objective: Take the Evidence of Nicolas's Treachery

I should meet Quen outside No Shira Citadel.

Objective: Meet Quen outside No Shira Citadel

I should speak to Quen outside No Shira Citadel.

Objective: Talk to Quen

Quen found a way into the Iron Wheel's headquarters. I should meet Walks-Softly outside No Shira Citadel.

Objective: Meet Walks-Softly Outside No Shira Citadel

Walks-Softly has a plan to get past the Iron Wheel sentry outside No Shira Citadel.

Objective: Bypass the Iron Wheel Sentry

I should speak with Walks-Softly inside the entrance to No Shira Citadel.

Objective: Talk to Walks-Softly

I should find Chief Inspector Rhanbiq's office in No Shira Citadel.

Objective: Go to Chief Inspector Rhanbiq's Office

Magnifica Falorah was inside No Shira Citadel. Although wary of my intentions, it seems she wants to talk.

Objective: Talk to Magnifica Falorah

The Iron Wheel holds Zeira in No Shira Prison. I should search for her cell block. Once I'm there I should be able to locate her cell.

Objective: Find Zeira's Cell Block

Objective Hint: Follow Magnifica Falorah to No Shira Prison

Objective Hint: Enter No Shira Prison

Zeira was not in her cell block, but Nicolas was. I should speak with him and see what he knows.

Objective: Talk to Nicolas

If I provide Nicolas with a single lockpick, he will tell me where to find Zeira. Before I make my decision, I could consult with the others in No Shira Prison.

Objective: Decide the Fate of Nicolas

Objective Hint: Consult with the Thieves Guild

The Warden's Office in No Shira Prison has Zeira's transfer orders which should reveal her location. (If you didn't agree to help Nicolas)

Objective: Get Transfer Orders from the Warden's Office

Zeira is aboard a prison ship that is about to leave No Shira Prison. I should hurry there.

Objective: Find Zeira on the Prison Ship

Objective Hint: Get a Key from the Guard

Objective Hint: Lockpick the Prison Hold Door

I need to free Zeira from the prison ship outside No Shira Citadel.

Objective: Free Zeira

Objective Hint: Talk to Chief Inspector Rhanbiq

Objective Hint: Unlock the Cell

I should speak to Zeira now that she is freed and back in charge.

Objective: Talk to Zeira

Zeira and I should escape No Shira Citadel before the Iron Wheel realizes. Other prisoners have been freed as well and are retrieving much of the amassed treasure

Objective: Escape No Shira Citadel

Objective Hint: Find a Rowboat

I should return to the Thieves Den and speak with Zeira.

Objective: Meet Zeira at the Den