Online: Hrota Cave
The UESPWiki – Your source for The Elder Scrolls since 1995
Sometimes natural caves serve as lairs for wild beasts, and sometimes they're occupied by criminals such as smugglers or bandits. Occasionally, they may become home to ... something worse.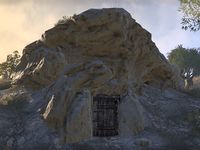 Hrota Cave is a cave located just north of Anvil containing wispmothers and undead.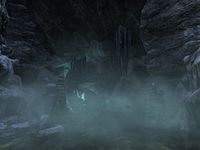 Wisps can be found throughout the cave, and will animate nearby corpses if not killed quickly enough. The cave contains several named wispmothers, but only Exulus needs to be killed to clear the delve. The vampire lord Zalar-do also lairs here.
Exulus has a chance to drop the following chapters of the Assassins League style: Boots, Bows, Chests, Maces, and Swords.
Related Quests
[
edit
]
Clearing the Dungeon
[
edit
]
Explore and clear Hrota Cave.
To clear this dungeon and mark it as complete, you need to kill the following bosses:
Achievements
[
edit
]
There is one Achievement associated with this location:
The cave has several cave-ins which appear to be dead ends. However, approaching one will allow you to activate a "Secret Passage" and emerge on the other side.
Gallery
[
edit
]