Skyrim:Xander
The UESPWiki – Your source for The Elder Scrolls since 1995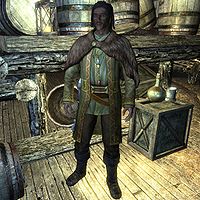 Xander is an Imperial nightblade who lives aboard the ship, the Red Wave. He used to be the captain of a ship known as the Argent Raptor, but now he is just a lowly crewman for Safia.
Xander wears a set of fine clothes with a matching pair of boots. He carries a selection of upper-class loot and gold along with an additional small amount of gold. He wields a leveled one handed weapon, which can be up to elven in quality.
Xander will happily tell you about his days of being the captain of a ship: "I once captained a ship called the Argent Raptor. She struck an iceberg and went down, just north of Windhelm." He will also tell you about his love of fine clothes: "My shipmates scoff at my love of finery, but I know envy when I hear it." He may also complain to you about how he has fallen from his days of being a captain: "From ship's captain to lowly crewman... I suppose I deserve it after wasting all my coin on gambling and women." Xander will also reveal to you where he used to live until he ran into some legal issues: "I hail from Cyrodiil, but after a... misunderstanding with the law, I needed a swift change of scenery."
Related Quests
[
edit
]
Note: This NPC is one of many potential quest givers or quest targets for one or more of the radiant quests found on this page.
There are unused scenes in which Xander shops for various goods, but it cannot normally happen as he never goes to the respective stores:
Xander shopping Apothecary
Angeline: "Back so soon Xander?"
Xander: "Can you make some new poultices for my...you know?"
Angeline: "You should be more careful about the women you spend time with in port. Come back later and it will be ready."
Xander shopping Clothes
Xander: "My tunic is fading. Too much sun and salt spray."
Taarie: "I doubt it can be repaired. You'll have to buy a new one."
Xander shopping Bits and Pieces
Xander: "I need some things for the ship."
Sayma: "If you give me a list, I'll have them delivered to the dock by tomorrow morning."