Skyrim:No News is Good News
The UESPWiki – Your source for The Elder Scrolls since 1995
Quick Walkthrough
[
edit
]
Talk to Angeline Morrard in Angeline's Aromatics.
Get some news from Captain Aldis.
Return to Angeline Morrard.
Detailed Walkthrough
[
edit
]
A Mother's Request
[
edit
]
Angeline Morrard is the shopkeeper of Angeline's Aromatics in Solitude. In your conversation with her, she will ask you if you have been to Whiterun. If you tell her that you haven't been there before, she will be understanding and you can talk to her about it later. If you tell her that you have indeed been to Whiterun, she will become very animated. It seems her daughter, Fura, was assigned to Whiterun after she joined the Imperial Army and Angeline was hoping to get some recent news about her. Although Angeline has tried contacting Captain Aldis, she didn't get any information from him. If you are willing to help her get more information about her daughter, anything you can find out would be welcome.
A Need To Know Basis
[
edit
]
Captain Aldis can be found training the guards in the courtyard of Castle Dour during the day. When you tell him that Angeline sent you for information about her daughter, Aldis will respond, "Generally posting information is need to know only". Several options are available for you to continue the conversation, including persuasion and intimidation. You must pass an easy Speech check to persuade him to reveal Fura's fate.
Option
Dialogue
Reaction
I think Angela [sic] needs to know. (Persuade)
Passed: I... I've been trying to find the time and place to let her know.
Failed: I'm sorry, I can't help you.
Passed: Return to Angeline
Failed: Nothing
Well, I'm making it "need to know." (Intimidate)
Passed: If you want to know that bad then fine.
Failed: I'm afraid that kind of thing doesn't work on Captains in the Imperial Army.
Passed: Return to Angeline
Failed: Nothing
Fine. If that's the way you want it.
That's the way it is.
Nothing
Tell me about her daughter. That's an order, Captain.
Yes, Sir. Although I'm not sure you'll be happy to know.
Return to Angeline
The Casualty List
[
edit
]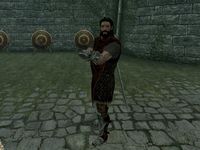 The captain will then give you the news: "Her daughter was sent to Whiterun, the skirmishes there have been violent. The whiterun [sic] legate, he needed to know the Stormcloak positions. He sent out a party to scout the area. They happened upon a large force... I'm told none of them made it back. Private Morrard... Angela's [sic] daughter was in that scouting party. She needs to be told".
The Bearer of Bad News
[
edit
]
Return to Angeline Morrard with the news. Angeline is eager to hear about her daughter. She is understandably grief-stricken when you tell her the bad news: "I told her. I told her the imperial [sic] army would kill her. That this was a war of Jarls and Imperial Generals and we had no part in it. She just wouldn't hear it". Angeline can't thank you for the news, "not for this", but she acknowledges that you have done her a service. You get no reward from her, but she will have a more friendly disposition towards you and allow you to freely take many low-value items in her shop.
If you have completed the Stormcloak missions, especially Battle for Solitude, before speaking with Aldis, this quest will be impossible to finish as it would lead you to a bare area where Aldis once stood. Because of this, it is highly recommended this quest is done before finishing the Stormcloak missions.

This bug is fixed by version 1.0 of the Unofficial Skyrim Patch.
This can also be fixed by entering the following in the console: setstage SolitudeFreeform01 20. This will set the stage of the quest to where you have to return to Angeline, and will allow you to complete the quest.
Quest Stages
[
edit
]
No News is Good News (SolitudeFreeform01)
Stage
Finishes Quest
Journal Entry
10

Objective 10: Ask Aldis for information about Angeline's daughter.

20

Objective 20: Tell Angeline what Aldis said.

30
(Completes quest successfully)
200
(Fails quest if stage 30 not complete)
The following empty quest stages were omitted from the table: 0, 5.