Skyrim:Mor Khazgur Mine
The UESPWiki – Your source for The Elder Scrolls since 1995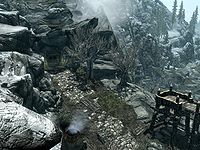 Mor Khazgur Mine is a small orichalcum mine attached to the Orc stronghold of Mor Khazgur. It is located on the hill within the Orc stronghold of Mor Khazgur, which it overlooks.
Shuftharz will buy orichalcum ore from you.
Residents
[
edit
]
Related Quests
[
edit
]
Walkthrough
[
edit
]
Exterior
[
edit
]
The exterior of the mine is the Orc stronghold of Mor Khazgur. The path leading up to the entrance passes the stronghold's smelter on the left and a wooden lookout platform on the right. There are two food barrels and three orichalcum ingots immediately outside of the entrance in an open-sided shelter.
Mor Khazgur Mine
[
edit
]
The mine is rich in orichalcum ore, having a total of seven orichalcum ore veins. Once you are blood-kin to the Orcs you are free to mine here.
The entrance leads into a passage descending to the north, that leads into a large chamber with wooden scaffolding along the north and east walls and wooden planking shoring up the other two walls. Directly in front of the scaffolding is a long wooden table holding two orichalcum ingots, a piece of orichalcum ore which will be free to take if you are blood kin, and a pickaxe. There are many pickaxes and several empty carts found in the mine. To the left of the table is an unlocked chest containing minor loot. Climbing the ramp to the left to the first level leads to two orichlcum ore veins on the left. There is a basket containing a bottle of alto wine beside the first of these. Between the two veins is a passage heading down to the north, with two barrels of ingredients at the top, on the left. At the bottom are two more ore veins. Returning to the first ledge, along the front edge of the ledge are a couple of stacks of crates, barrels, two of sacks of foodstuffs, a knapsack leaning against one crate and a loose piece of firewood beside another.
In the main chamber there is a second ramp leading up from the first ledge heading east to a higher level. There is an ore vein on your left on the wall with a bed roll underneath it, a second ore vein on the wall to the east with a small wooden table in front, holding a bottle of alto wine, a bottle of Nord mead, a bulb of garlic, two portions of grilled leeks, a seared slaughterfish steak, and some bread and cheese. For the final ore vein; from the ground floor of the mine, there is a short tunnel to the west with an ore vein at the end.