Skyrim: Horker Island
The UESPWiki – Your source for The Elder Scrolls since 1995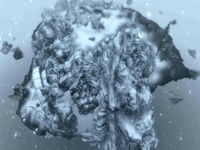 Horker Island is a large island to the east of Solstheim. It is inhabited by horkers and also has the entrance to Gyldenhul Barrow on the northwest shore.
Related Quests
[
edit
]
Horker Island
[
edit
]
The horkers are mainly located on the eastern and northern shores. There are numerous spiky grass plants found on the island and an ebony ore vein on the eastern shore, against a large rock. For an easy approach, either the southern or northwestern beaches offer the shortest distance over water. The island has a rocky spine limiting access from north to south or east to west. There are normally several Felsaad Terns flying over the island at any time, no matter the weather.
The beach to the south has an overturned rowboat with several barrels around it, two of which are fish barrels. Saden's Journal lies on top of a crate. Traveling counter-clockwise around the island to the eastern shore, there are several horkers including a named horker, Lord Tusk, a total of four dead reavers along the beach, the gory remains of more humans amid blood splatters and the broken remains of a larger boat, with the front half wedged up on the rocks at the shoreline and other half under the water. Just below the visible portion of the boat is an unlocked chest beside an expert-locked East Empire Company strongbox and a clam. There are three Nordic barnacle clusters and a patch of slaugherfish eggs on the other half of this boat, either on the deck or the hull.
Heading inland due west from the boat will lead you to the corpse of Saden and a unique mace, Horksbane, which as the name suggests does increased damage to horkers. Continuing up the rise from the corpse will bring you to an area covered in human skulls and bones with an unlocked chest, a random enchanted weapon and a pair of random boots. Further along the shore to the north is a mast of another sunken ship sticking out of the water. There is another Nordic barnacle cluster on the hull below the mast, while further north on the beach is a master-locked wooden chest.
Continuing around past a short section without a beach, just rocks disappearing into the water, you will reach the western shore. There is a quicksilver ore vein against the rocks near two rowboats pulled up onshore. Behind several tall rocks standing upright along the shore is the entrance to Gyldenhul Barrow. There is also snowberry bush just to the left of the entrance. Two leveled reavers guard the barrow entrance, which is master-locked. Once you have found and emptied all four chests during the relevant quest you will receive a key that will open this door.