Skyrim:Ghostblade
The UESPWiki – Your source for The Elder Scrolls since 1995
Unique Item: Ghostblade

(

00

094a2b

)



Type
One-handed Sword
Editor ID
dunAnsilvundGhostblade
Statistics
 Damage
8
Speed
1
Reach
1
 Weight
1
 Value
300
Tempering
3 Ectoplasm
Enchantment

Does 3 points of extra damage, ignoring armor: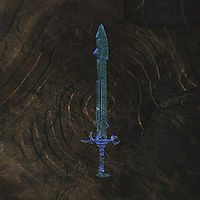 Ghostblade is a translucent Ancient Nord Sword given to you by the spirits of Fjori and Holgeir as a reward for freeing them from the control of Lu'ah Al-Skaven, as part of the quest Ansilvund. The weapon is enchanted to do three extra points of damage that ignore the target's armor, without needing to be charged through soul gems. It is also extremely lightweight, and thus requires very little Stamina for power attacks. Tempering Ghostblade requires three samples of ectoplasm, as well as the Arcane Blacksmith perk.
Related Quests
[
edit
]
Placing Ghostblade on a weapon stand may cause it to disappear and the weapon stand to become unusable. After placing it on a shelf, it may float around your house with each visit and eventually disappear if not moved back to the shelf.