Shivering: 

Hale

The UESPWiki – Your source for The Elder Scrolls since 1995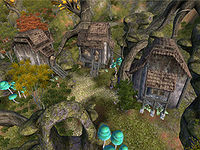 Hale is a village in Mania, southeast of The Isle of Flame (quest-related).
It lies at the end of the right fork of the unnamed path that comes off Overlook Road, leading to The Isle of Flame. The three houses for the four residents are perched on a hill with a spectacular view regardless of the time of day. The residents are as artistic in their words as they are in the activities they undertake. The Argonian, Tall-Trees-Falling, is a poet of pessimism and strives only to keep the town clean with her sweeping while she awaits her fate. Halion, an Altmer who is also a poet, keeps mostly to himself but will attempt to turn any conversation into a rhyming verse. Zoe Malene is a Breton painter who has just recently found a mutual love with Pyke, a Redguard, who now lives with her. Pyke recently came through the same gateway in Niben Bay that the player has, but while exploring the Isles for adventure, soon found serenity and love in Hale. A former Knight of the Thorn from Cheydinhal, Pyke was attacked by Grummites when first exploring the Isles and unfortunately lost the medallion symbolizing his membership. Recovering the sentimental object for him in the middle of a Grummite root cave encampment is the subject of the quest that begins here.
Related Quests
[
edit
]