Redguard:Empire
The UESPWiki – Your source for The Elder Scrolls since 1995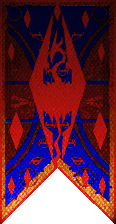 The Empire is ruled by Emperor Tiber Septim, who has conquered Hammerfell with his Imperial legions and the assistance of the Forebears. Provisional governors sit on the thrones of both Stros M'Kai and Sentinel, and guards patrol the streets to maintain order.
Before Hammerfell, Septim conquered Skyrim and High Rock. When the Crowns recaptured Sentinel during the Redguard civil war, the Forebears signed a truce with the Empire to lend the Imperial armies in return for holding titles along the Hammerfell border. The Empire proved too much for the Crowns, and the Redguards soon retreated all the way back to Stros M'Kai.
Admiral Lord Amiel Richton led the Imperials at the Battle of Stros M'Kai in Hunding Bay. He brought a dragon, Nafaalilargus, and the Dunmer assassin Dram. Dram shot an arrow that physically killed the Crowns' leader, A'tor. Nafaalilargus burned their ships and the few Crowns that made it to land were killed in the city's Old Quarter by the dragon as well. Richton was rewarded with the position of Provisional Governor of Stros M'Kai. Meanwhile, Forebear leader Baron Volag went missing and the Empire made a new treaty which garrisoned their troops in Hammerfell's cities "until such a time as the native rulership can see fit to reinstate itself safely on its rightful throne".
Richton faced many difficulties successfully governing the city, with most of the populace against him and the Restless League raiding Imperial ships and blowing up his flagship in the harbor. During this time, he ordered an excavation of the Dwarven Ruins on the island and the restoration of the Observatory. Cyrus gave him further trouble, escaping from imprisonment, killing his dragon, and sparking a rebellion that decisively defeated the Imperial forces stationed there and let Cyrus infiltrate the Palace to kill Richton and Dram. The Empire was forced to negotiate a peace treaty with the Redguards.
Known Members
[
edit
]
Gallery
[
edit
]