Online:Ysgramor
The UESPWiki – Your source for The Elder Scrolls since 1995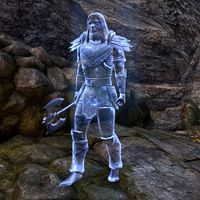 Ysgramor was an ancient Atmoran king who came to Tamriel before recorded history as a refugee fleeing civil war in Atmora. He appears as an ethereal spirit during several quests for the Ebonheart Pact.
He has two sons, named Yngol and Ylgar.
Related Quests
[
edit
]
Quest-Related Events
[
edit
]
Storming the Hall
[
edit
]
There is a statue to Ysgramor in Fallowstone Hall's Hall of the Dead. You must read it to progress the quest.
<The hands of this statue are clenched, as if they once held something. A plaque sits at the feet of this statue.>
"Ysgramor, the greatest of us all. He bears Wuuthrad, mighty axe of legend."
The Rise of Sage Svari
[
edit
]
Ysgramor appears in the third vision at the Shrine of Ysgramor, where he and Ylgar fight Sinmur. After the giant is dead, Ylgar turns to face you.
Ylgar: "Even the giant Sinmur fell to the might of Ysgramor and Wuuthrad!"
Ysgramor: "And so shall all the Companions' foes fall!"
Those She Devours
[
edit
]
Stomping Sinmur
[
edit
]
Ysgramor appears after Sinmur's defeat.