Online:Wright of Passage
The UESPWiki – Your source for The Elder Scrolls since 1995
This page has had only minimal human input, containing primarily bot-generated or templated information.
If you have any information about this quest, please feel free to start filling in this page. To learn more about the quest format, see Quest Layout.
Once a basic description has been added, this template should be removed.
This page is currently being rewritten as part of the Online Quest Project.
The page is being both written and checked. All users are welcome to make changes to the page. If you make a change that is relevant to the project, please update this template accordingly, and make sure you have observed the project guidelines.

I encountered Za'ji, a Khajiiti sea captain, who claims to be searching Shipwright's Regret for a treasure of some kind. He's requested my help with his search.
Quick Walkthrough
[
edit
]
Find the Shipwright's Village and explore.
Defeat Foreman Bradiggan
Search for Caska in the Reclaimed Logging Camp
Fight Nazaray.
Search the Derelict Shipyard for the Shipwright's Designs.
Chase after the Maormer pirates.
Kill Captain Numirril.
Speak with Captain Za'ji.
Detailed Walkthrough
[
edit
]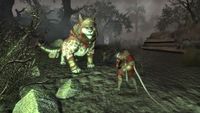 Quest Stages
[
edit
]
Wright of Passage
Finishes Quest
Journal Entry
The shipwrights' ruined village lies ahead. Za'ji wishes to give it another look for signs of his treasure.

Objective: Search the Shipwrights' Village

We encountered a hostile wraith blocking the path out of the shipwrights' village. I need to destroy it to get by.

Objective: Kill Foreman Bradiggan

Za'ji said he was separated from his first mate [sic] at the old mill deeper in the woods. We should try to find out what happened to her.

Objective: Enter the Reclaimed Logging Camp

We found Za'ji's first mate [sic], Caska, safe and sound, if a bit irritated with her captain. We'll need to fight through the wild beings growing throughout the logging camp to reach the shipyards that Za'ji hopes contain his treasured plans.

Objective: Explore the Reclaimed Logging Camp

We were ambushed by a massive spriggan inhabiting the old mill and Za'ji was dragged inside. I need to destroy the creature while Caska holds off its spawn.

Objective: Kill Nazaray

We cleared a path to the derelict shipyard. Now to continue the search for the plans Za'ji is after.

Objective: Search the Derelict Shipyard

The Sea Elves appear to have ransacked the master shipbuilder's office and taken everything of value. Za'ji believes that includes the plans he's after. We need to recover them from the Maomer [sic] before they escape.

Objective: Find the Master Shipwright's Designs

The Sea Elves are escaping with their plunder, but one of their leaders is staying to hold us off. I need to defeat him.

Objective: Kill Captain Numirril

I defeated the Sea Elves' leader and he seems to have had the plans Za'ji sought. I should speak to him about it.

Objective: Talk to Captain Za'ji