Online:Trilam Rindo
The UESPWiki – Your source for The Elder Scrolls since 1995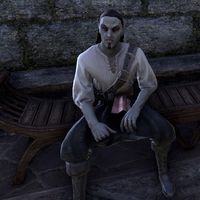 Trilam Rindo is a Dunmer treasure hunter in Vivec City. He can be found on the east side of the Canton of St. Olms the Just. He's sitting on a bench on the lower terrace.
He appears after completion of Divine Disaster.
Related Quests
[
edit
]
Dialogue
[
edit
]
"Do not look upon me, stranger, for I am surely cursed. Greed blinded me, and innocent lives have suffered. Yet I was spared.
Perhaps this unending guilt is meant to be my punishment."

What's wrong?

"We found a relic deep in the Ashlands, near Kogoruhn, and sold it to a Temple historian here in Vivec. Now he lies dead and his young assistant is on the run, wanted for murder.
Such a sweet girl. What if the relic … made her do that?"

You think the relic you found caused her to kill someone?

"It's just a feeling. That relic had a … I don't know, a draw to it. Like it wanted me to bring it here. It sounds crazy, but her brother sought me out. "
"He seemed convinced it was the cause and where it came from was key to where she was heading."

Maybe I'll head north. See if I can find them. <Start quest>

"The Ashlands are dangerous, but around Kogoruhn … there's something off. Don't find yourself cursed as well."

Can you tell me anything else about the siblings?

"His name was Tythis—an Ordinator—real intense, but I could tell it was concern for his sister: Nevena. She was young, enthusiastic, honored to be at the Temple … poor girl.
If you find them, I hope you undo the harm I've caused."

Kogoruhn?

"It was the home of a Great House that fell into ruin. Red Mountain has buried most of it, but the bones are there if you know what to look for.
To be honest, I just sort of stumbled on the statue in the wasteland. Lucky find … I thought."

Tell me about the statue you found.

"It was an ugly thing, sinister even, but I knew the Temple would be interested. There aren't many pieces that survived that dark time, and they wouldn't want something like that circulating around.
I swear, I thought it would be safe with them."