Online:The Shark's Teeth
The UESPWiki – Your source for The Elder Scrolls since 1995
This page is currently being rewritten as part of the Online Quest Project.
The page is being both written and checked. All users are welcome to make changes to the page. If you make a change that is relevant to the project, please update this template accordingly, and make sure you have observed the project guidelines.

Shark's Teeth Grotto has been overrun by pirates and Shalug needs some help dealing with them.
Quick Walkthrough
[
edit
]
(Optional) Take the quest from Rohefa in Abah's Landing.
Talk to Shalug the Shark in Shark's Teeth Grotto.
Place the Shark's Teeth sigil around the grotto.
Return to Shalug.
Detailed Walkthrough
[
edit
]
There are two ways to start the quest, firstly, you can talk with Rohefa at the Docks in Abah's Landing.
"You've got that look in your eye. That look of absolute boredom. If you want something to do, I could direct you to some dishonest work.
If that sort of thing interests you."
What kind of work are we talking about?
"The kind where you get paid! Just head over to Shark's Teeth Grotto and look for Shalug. She could use some help evicting pirates from our hideout and I'm much too pretty for that sort of work.
Do what she says and the gold will pile up real quick!"
I'll talk to Shalug at Shark's Teeth Grotto.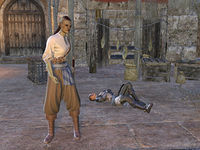 The Shark's Teeth Grotto is located around the southwestern corner of the island and the No Shira Citadel Wayshrine is closest to it. Once you have entered the Grotto itself, Shalug can be found near the doorway, surrounded by a few corpses. Talk with her to see what work she has for you.
"Stop right there, you despicable pirate! Take one more step and I'll gut you, belly to nose."
Rohefa said you had work for me. (If you spoke with Rohefa first.)
"She's got some sharp tusks for a Redguard, that's for sure. But what about you? I lead the meanest crew of cutthroats in Hew's Bane, but the Wake Walkers ….
This grotto belongs to the Shark's Teeth and I won't let those pirates ransack it!"
Who are these pirates you keep mentioning?
"The Wake Walkers? Bunch of water-logged Elves from a garbage scow with a grandiose name!
There's a new commodore and suddenly all the pirate crews want to find gifts that will impress her. But the grotto's ours—loot and all!"
So how can I help you deal with the Wake Walker pirates?
"Everybody wants to be one of the Shark's Teeth, eh? All right. Take this paint and a map of the grotto. Just place our sigil at the spots shown on the map to mark our territory. Simple, right?
Just don't tusk it up. Or else."
Afterwards agreeing to help, she will hand you Shalug's Scroll which has the locations she wants painted. There are four locations which when visited, will take you around the Grotto's map. To reach these spots, you will have to handle two obstacles. The first are the various Wake Walkers (Wake Walker Archer,Blademaster,Mender, Wake Walker Sentinel) and dangerous creatures which you will have to fight your way through. The second are the various traps which can cause severe damage, you can either avoid them, dodge away once they are set off, or disarm them by crouching near them and interacting with them.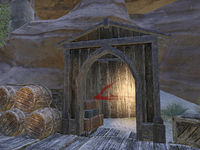 The first location is the Bloody Docks, to reach the spot she painted, you will need to fight your way up the adjacent path, then turn left and head down the other pier. You can paint the sigil on the wall of a small shack.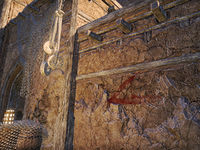 Then head back north until you see two passages in the rock walls, take the one going west and move through the passages until you reach the ruins of an old tomb full of statues. Paint the sigil on the central plinth in the Silent Room and keep following the passage south.
Soon you will enter a large open chamber, you can either fight the Grotto's bosses (First Mate Rodros and Krona Keeba) or avoid them and head to the Suicide Cliff through the eastern passage. Once there, you can paint the third sigil on the northern wall. If you are also searching for a missing pipe for Spencer Rye, you can find the pipe nestled between some pillows on the cliff.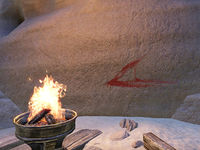 The fourth and final sigil will need to be painted on a wall in the upper section of the grotto at Plank Hill. From Suicide Cliff take the small path leading down from the cliff then head across the bridge, which hangs above the docks. Once on the other side, go north till you hit the northern rock face, there will be a Skyshard nearby so take the opportunity and grab it. A short distance away to the west will be the unmarked wall, once you have painted the final sigil you can hop down from that platform then follow the rock passage north and traverse the cavern. It will eventually take you back downstairs to north of the docks, you can then head south to the Grotto's entrance to talk with Shalug.
Shalug will be happy with your work.
"You do good work, friend. If I didn't know any better, I'd say that a true Shark's Tooth painted those sigils! I'm thrilled to see our mark back where it belongs!
I've decided you can live. Only seems fair, what with your help and all."
You owe me some gold, too, don't you?
"Greed. Another admirable trait. Anyone who claims to work for free either wants to rob or cheat you. Never trust an unselfish cur, that's my motto.
Here's your gold. You want more, come back tomorrow. Probably need to replace the sigils by then."
You will then receive an average amount of gold for your troubles.
Although Shalug implies that she wants you to help her again tomorrow, this quest is not repeatable.
Quest Stages
[
edit
]
The Shark's Teeth
Finishes Quest
Journal Entry
Rohefa suggested I could make some easy gold if I talk to her boss, Shalug, at Shark's Teeth Grotto.

Objective: Talk to Shalug the Shark

Shalug wants me to enter the grotto and place her sigil where the pirates will see it. She figures that that will show them that the Shark's Teeth still control the grotto—regardless of the presence of so many pirates.

Objective: Place Sigil on the Bloody Docks

Objective: Place Sigil on Suicide Cliff

Objective: Place Sigil on Plank Hill

Objective: Place Sigil in the Silent Room

I placed the sigil of the Shark's Teeth throughout the grotto, just as Shalug asked. I should return to her and claim my reward for services rendered.

Objective: Talk to Shalug