Online:Shisuri
The UESPWiki – Your source for The Elder Scrolls since 1995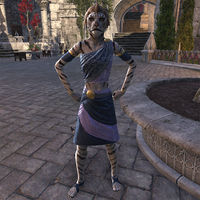 Shisuri is a Khajiit baker found near The Gilded Fork in Alinor where she is mistaken for a moon sugar dealer by a High Elf named Pelaltor.
Dialogue
[
edit
]
Pelaltor: "Hello! Well met, friend!"
Shisuri: "Hmm? Pardon Shisuri, but... have we met before?"
Pelaltor: "Well, no. But I was hoping to, ah, conduct some business of a.. personal nature with you."
Shisuri: "This one has no idea what you're talking about. And why are you whispering?"
Pelaltor: "Let's keep our voices down, shall we? I was wondering if you could help me with my sweet tooth, if you catch my drift."
Shisuri: "Ah. This one understands your meaning. You seek something for this sweet tooth of yours, yes?"
Pelaltor: "Yes! Now, can you provide?"
Shisuri: "You are very discerning to seek Shisuri out. After all, she has the finest sweet rolls in Alinor! Of course, if that's not what you seek, perhaps a guard could be of help?"
Pelaltor: "Guards? Uh, please excuse me. I must have mistaken you for someone else!"