Online:Selenu
The UESPWiki – Your source for The Elder Scrolls since 1995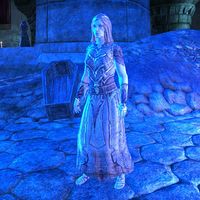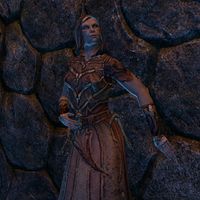 Selenu was a Nedic elder from the tribe who discovered Lamae Beolfag after Molag Bal's attack. An apparition of her is seen during the quest Scion of the Blood Matron after drinking from the Basin of Suffering.
Related Quests
[
edit
]
Quest-Related Events
[
edit
]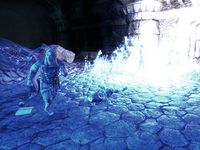 The basin of suffering is to the right and north of Rahaja and the center pool. You drink some of the water and see a vision of the Nedic nomads attempting to burn Lamae Bal's body.
Lamae Bal: "When I was a priestess of Arkay, Molag Bal ravaged me and left me for dead. A group of nomads tried to purify me with fire. But I awoke... changed."
Vraseth: "Elder, what do you believe happened to her?"
Selenu: "Her body was…mangled,

rent 

[sic] apart by a terrible darkness. Its corruption is still on her. I can feel it."
Vraseth: "Is it true her bones healed on their own?"
Selenu: "Yes. That is why I insisted we perform this rite at once."
Lyrezi: "Elder! The girl!"
Selenu: "No, we are too late.
No! back away!"
Lyrezi will walk towards the fire, promptly before being drained by Lamae. Selenu is drained after, while Vraseth runs away, ending the vision.