Lore:Abibon-Gora
The UESPWiki – Your source for The Elder Scrolls since 1995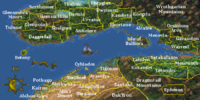 Abibon-Gora is a region that rests on the western coast of Hammerfell, in the Iliac Bay region. It shared borders with Kairou to the north and the Alik'r Desert to the east when it was a barony in the 3rd Era. Redguards predominate the region, with Julianos as the favorite deity. The capital city is the city of Abibon-gora, and the locality is protected by the Knights of the Wheel.
After Redguards moved into the area, the local Sload found that their methods of criminal justice provided a good source of material for experiments in necromancy. Despite efforts from the Redguards to rid themselves of the Sload, reports of them surviving as far north as Abibon-Gora lasted into the Third Era.[1]
The people of the region celebrate a holiday called Drigh R'Zimb on the 1st of Mid Year, a festival held in honor of the sun. No other Redguards worship the sun on this day, so scholars have suggested that the holiday might be a direct translation of older Redguard festivals from before their migration to Tamriel from Yokuda.
After the Warp in the West, Abibon-Gora became a part of the Kingdom of Sentinel.[1][2]
Gallery
[
edit
]
See Also
[
edit
]
References
[
edit
]