Online:Roaring Ramavel
The UESPWiki – Your source for The Elder Scrolls since 1995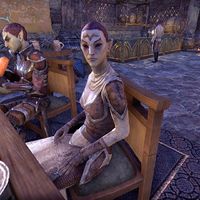 Roaring Ramavel is a Dunmer member of the Undaunted found at The Fish Stink, one of the two inns located in the city of Davon's Watch.
Related Quests
[
edit
]
Dialogue
[
edit
]
Stonefalls
[
edit
]
Before joining the Undaunted:
"I see they teach neither judgement, nor manners where you're from. This table is for the Undaunted. Begone!"
It is only after the aforementioned conversation with Kailstig that Ramavel will tell you about Spindleclutch and The Banished Cells, marking them on your map if you have not yet discovered them. After you have spoken to Kailstig the Axe about joining the Undaunted, Ramavel's greeting will change.
"As an Undaunted, I seek to better myself, but I'm afraid there is little left in this world to challenge me.
Perhaps there are Daedric realms that are more interesting. A dangerous thought, I suppose."
How can I prove I am Undaunted?
"There are rumors than an undead Elf king is imprisoned somewhere beneath the isle of Auridon—and that his watchers are more tortured than he is. Find this king—and you may discover the meaning of Undaunted."
Do you know of other challenges?
"You realize asking about challenges is not the same as facing them?
There is a cave network in Daggerfall called Spindleclutch. Supposedly infested with giant spiders and other foul creatures. Exploring it should keep you busy."
Shadowfen
[
edit
]
You will meet her again at the Coin Brothers' Cornerclub in Stormhold, where she will tell you about the Crypt of Hearts and the City of Ash as well. [verification needed — see talk page]
Before joining the Undaunted:
"I have much better things to do than converse with you."
After joining the Undaunted:
"Ah, you again. And with every limb intact!
You continue to surprise."