Online:Kourazir
The UESPWiki – Your source for The Elder Scrolls since 1995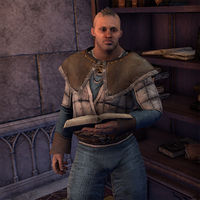 Kourazir is a Redguard magus of the Mages Guild found in the guildhall in Alinor.
Dialogue
[
edit
]
"Psijics running hither and yon, Daedric cultists infiltrating High Elf society, stories of terrible sea monsters... it seems that there's a new threat every other day.
Makes you wonder what kind of a game the gods are playing with poor Tamriel."
"I suspect the High Elves have made a mistake. Don't get me wrong. I'm pleased that they opened their borders so that people such as I can visit and study here. But in the long run, I believe they will regret making the island so accessible."
"The Mages Guild started here on Summerset. Did you know that? Our illustrious founder, Vanus Galerion, was born and raised here. Remarkable High Elf. Kind of an arse, but remarkable none the less.
How can I help you, friend?"