Online:Keenem
The UESPWiki – Your source for The Elder Scrolls since 1995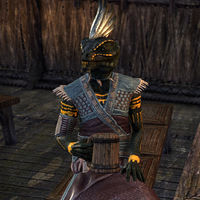 Keenem is an Argonian who can be found in the Egg-Tenders' Quarters in Bright-Throat Village.
Empty Nest: Investigate strange occurrences at the Bright-Throat egg nursery.
Quest-Related Events
[
edit
]
If you speak to him before starting the quest, he'll only say:
"I don't mean to be rude but, what?"
Empty Nest
[
edit
]
He can be found relaxing in the egg-tender's quarters, before he begins his watch of the eggs. Iskenaaz will introduce him and his fellow egg-tender Mimme at the same time:
Iskenaaz: "Perhaps a tour of egg-tender's quarters is of interest? It is just up the way. Our visit should not arouse suspicion, we host many guests, but your discretion would be appreciated.
Iskenaaz: "Ah, Keenam

 

[sic], Mimme. We have a guest very interested in our customs. Please show them the utmost courtesy."
Keenem is reluctant to speak to you as he wishes for some quiet and suggests you speak with Mimme instead.
"Have you come to learn all you can about egg-tending before you witness our bonding ritual? I'm sure Mimme would be happy to help you. I am soon to begin my watch of the nests and I wish to enjoy the peace and quiet a while longer."
Is egg-tending that demanding?
"It is normally quite pleasant, but before the bonding ritual it becomes insufferable. Suddenly the village is full of experts, if you take my meaning. The sooner it's back to just me and the eggs, the better."
Could all the activity affect the eggs?
"No, no. Just dries my scales. The eggs are blissfully unaware of all the scrutiny. I think. I don't remember all the gawking and complaining, certainly.
Now, if you don't mind. I think Mimme would make better company right now."
Attempting to speak to him again will have him brush you away with his default line: I don't mean to be rude but, what?"
If you come up to him after discovering the dragonthorn he will attempt to dissuade you from conversation again, but will speak up if you present to him the odd herb:
I found this plant mixed in with the fruit. Is it supposed to be there?
"Some herb. Smells sharp as the thorns. Wouldn't use it to season fruit, that's for certain.
Must be one of the others. Just put it back with the rest of the food. Maybe under glass."
You've never see this before?
"I'm no herbalist. If you're worried someone's trying to poison us, I promise I'm not going to eat it.
I am going to get back to my drink though."
If you speak with him after completing Empty Nest, he will say: (?)
Iskenaaz refers to Keenem as Keenam.