Online:Kari
The UESPWiki – Your source for The Elder Scrolls since 1995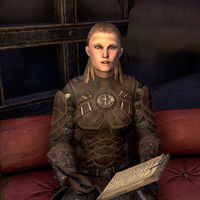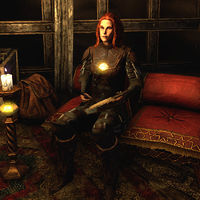 Kari is a Nord found inside the Thieves Den in Abah's Landing. She is responsible for the guild finances, accounts of information and runs the Guild Job Board. She has a sister, Hola Fair-Hair, who also works for the guild.
Related Quests
[
edit
]
Quest-Related Events
[
edit
]
She has several greetings she uses when you speak to her after completing your task.
"Little busy, I'm trying to track down two gold pieces that came up short in this morning's count."
"Oh, you're back? Hold on—let me—grr! Who keeps stealing my ink pot?"
The Cutpurse's Craft
[
edit
]
After completing your first pickpocketing mission, you can talk to Kari.
I picked a variety of pockets.
"Wish everybody was making the same effort. let's see what you've got. Mm. Mmhmm. Not bad. It's yours, plus a little extra for the effort."
The Covetous Countess
[
edit
]
I've delivered the items to the client.
"There always seems to be something weird with those noble types. I think they go stir crazy without honest work. Not like us.
If they want to part with their fortunes willingly, you won't get complaints from me. Or you, I'd wager."
Crime Spree
[
edit
]
Returning with one lockbox:
I broke into a lockbox.
"Just one lockbox? You know the point was to stir things up. Oh well, you're chipping in. I'll note it in the log.
Here's your pay."
Returning with 2 lockboxes:
I broke into some lockboxes.
"(?)"
Returning with 3 lockboxes:
I broke into several lockboxes.
"Oh, I know you did. People are already talking about the rash of break-ins. I can hardly keep up with the flood of merchants making "security deposits" with the guild.
I've got your cut of that right here."
Idle Hands
[
edit
]
"Oof, it's heavy! Just shear the sheep, don't steal the whole mutton.
Shaking up those laborers is worth a good bit to the guild. Here, you earned it."
Plucking Fingers
[
edit
]
Completing the objective one-third of the way:
"Let's see what you nicked … Not much, is it? A few more unruly bards getting a lesson in tragedy is worth something though.
Here's your cut."
Completing the objective two-thirds of the way:
"Mmhmm. Mmhmm. So you did. I guess we'll see how good this lot is at improvisation.
Here's your pay, plus a bonus to please keep this stuff away from Andarri."
Completing the whole objective:
"No kidding. Did you rob a whole troupe or something? Maybe they'll think twice about mouthing off about us in the future.
Have a night on the town courtesy of the guild."
Under Our Thumb
[
edit
]
Unsorted
[
edit
]
I picked a few pockets like you asked.
I picked some pockets like you asked.
I picked every pocket I could find.
"Someone told me recently that crime doesn't pay. Isn't that the dumbest thing you've ever heard?
Here's your cut."
"Oh? Let me tally it. Yes, uh-huh, ouch—stupid, sharp—all right. This should put a dent in their business, and their egos.
Good work, your pay."
Dialogue
[
edit
]
"New member? Great, we could use the coin coming in. Any work the Guildmaster's approved get posted to that board over there. See something you like, get it done, and I'll handle the books."
"You're working today? Better free up more gold before you get back."
"You could have left Zeira and kept the guild for yourself. I guess, you and her are cut from a different cloth than old Nick.
Suits me fine. I'm still cleaning up the mess the last power grab made of our books." (Appears after Prison Break)
What is it you do?/What is it you do here?
"Accounting. Inventory. Managing the futility of keeping the lot of you honest... You have any idea how hard it is to watch the coffers in a den of thieves? It's like watching my sister, multiplied by... I don't know, a lot.
I don't get much sleep."

How did you end up working for the Thieves Guild?

"My sister and I would work up my confidence schemes on wealthy merchants. She'd dress the part, I'd dress the ledgers.
The guild offered stability and an audience that could appreciate the performance. Hopefully, it can again."

You have access to all the guild's finances?

"I'm going to stop you right there, before the wheels start turning. If you need to get paid, I'll make sure you get everything you're owed. I don't miscount.
Never forget: I. Don't. Miscount."

You have a sister?

"Twin, if you could believe it. I love her, but she drives me crazy. You would not believe how much she can spend on cosmetics. "Work related." Uh-huh. Half, maybe."