Online:Fishing Lodge
The UESPWiki – Your source for The Elder Scrolls since 1995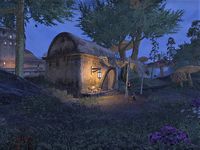 Fishing Lodge is a small one-room, Hlaalu-style building found to the north of Amaya Lake Lodge, just across the inlet on a small peninsula.
This location is an unmarked location on Vvardenfell. It contains the lorebook The 36 Lessons: Sermon 21 as well as several containers and food items. It also has a Hlaalu style cooking stove.
Outside there are several resource nodes. On the small dock is a water node. On the eastern end of the peninsula is a Nirnroot node and a Rune node, along with a spawn point for a Thieves Trove. Two pheasants are hung on the porch canopy.