Online:Ezzag
The UESPWiki – Your source for The Elder Scrolls since 1995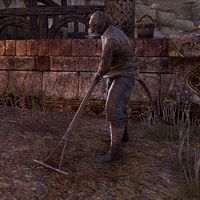 Ezzag is a Khajiit farmer found in the town of S'ren-ja. He is having problems with a local gang of bandits.
If you help S'ren-ja before arriving in Dune, he'll be there to greet you: "S'ren-ja salutes you, walker."
Related Quests
[
edit
]
Quest-Related Events
[
edit
]
Before Small Town Problems:
"Ohh. This one's back was not cut out for this."
Small Town Problems
[
edit
]
Ezzag's Bandits
[
edit
]
"What do you want? You are in Ezzag's light. This one has chores to do."
I was told someone is stealing your crops.
"You've seen the fields here, on the stead? Well, crops keep disappearing in the night. Plants just don't up and walk away!
Shuzura keeps telling Ezzag it's just children playing pranks, but he has lost half his crop this week!"
What can I do?
"It's bandits, damn it! Thugs and hooligans are taking Ezzag's crop.
Head down to the field! Find their hideout, kill their leader. Bring me his head!"
I'll look around.
"Ahh … on second thought do not bring Ezzag a severed head. He would almost certainly throw up."
What crops are you growing here?
"Eh? What does it matter? Ezzag grows moon-sugar, of course. It's a common staple in Reaper's March. We trade it with other villages, and sell it in the markets of Dune.
Have you ever had moon-sugar encrusted ham? Delicious!"
Investigate and return to him:
"So? Ezzag was right, right? It was not children?"
You were right, Ezzag. There were bandits stealing your crops.
"Hah! Ezzag knew it. That Shuzura, thinks she is so smart. Did you deal with them? Is their leader lying in a puddle of blood, somewhere?"
Don't worry, they won't bother you again.
"Ha ha! You have made Ezzag's day. No, his week! Ezzag shall name the next barn he raises in your honor."
Thank you, Ezzag. Anything else I can do for you?
"Not for Ezzag … but his niece Kalari just inherited his brother's home. She has said there is something wrong with it … ghosts?
Perhaps you help her, as you did Ezzag."
I'll help Kalari next.
"Good! Now get gone. Ezzag has many chores to do, and has already spent too much time jawing with you."
Haunting of Kalari
[
edit
]
"Go, go. Kalari should not have to deal with her father's legacy alone."
What do you know of her problem?
"Apparently her house is haunted. She's Ezzag's niece, so normally I'd be suspicious. Shiftless family ties, you know? But she's a good sort. Never known her to lie, and a sweet lass to boot."
I'll tell her you're thinking about her.
After all the objectives are done, he'll only say:
"Congratulations. You are a true hero."