Online:Elengil
The UESPWiki – Your source for The Elder Scrolls since 1995
Elengil
Home Settlement
Bramblebreach
Race
Bosmer
Gender
Female
Health
39959
Reaction
Justice Neutral
Pickpocket
Medium
Profession
Commoner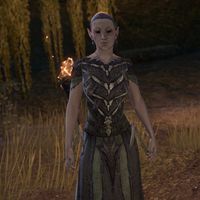 Elengil is a Bosmer commoner found in the town of Bramblebreach.
Dialogue
[
edit
]
"The spirits spoke of you. Thank you for helping our village. We will provide whatever support we can to your cause."

Tell me about the Wilderking.

"How to explain this ... He is many things.
Tall rocks and trees around the village, do you imagine they would care if they fell upon us? Could they care?"

No

"(?)"

Perhaps

"An outsider with an open mind!
The Wilderking's nature is like the rocks and trees. He does not understand pain or suffering. And yet he is just and kind. I knew this to be true the moment I saw him."

You met the Wilderking?

"When I was a child, yes. My grandmother was among the first Bosmer to come to Bramblebreach. This was long before the Aldmeri Dominion and the High Elf city of stone.
The Wilderking built this village for our ancestors.

Why is this village called Bramblebreach?

"Long ago there was a war in this part of Valenwood. There are many forgotten stories about that war, but a massive wall of brambles was raised around what is now the Wilderking's Court.
This village was the only opening into the court.

The breach in the bramble.

"Exactly!"

What did your grandmother tell you about the Wilderking?

"He reminded her of a terrible but distant storm. A thing of great beauty capable of frigtening devastation.
She said he could lift the ground into a hill or pull a full grown tree out of a seed. He did all this easily."

Tell me about when you met the Wilderking.

"Among the original tribe who came here, my grandmother lived the longest. The night she died I saw him standing among the trees.
Her tribe were his first friends, I think. It seemed like he wanted to mourn, but didn't know how."

What did he look like?

"It has been many, many years. I was a child.
He was very tall with a slender, handsome face. His crown is what I remember most. Knotted branches that rose above. And alive. He wore a living crown."