Online:Elagaer
The UESPWiki – Your source for The Elder Scrolls since 1995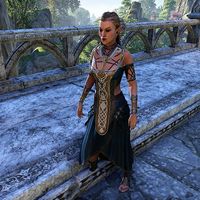 Elagaer is a Bosmer found in Alinor. She appears to be a noble petitioning for an audience with Proxy Queen Alwinarwe but is not having any luck getting past the court assistant, Talinturil. Elagaer along with Majdeema and Galdrus Hlarys can be found outside the Alinor Royal Palace.
Dialogue
[
edit
]
As you approach the Palace, you'll see the following scene with Talinturil and some unhappy visiting nobles:
Talinturil : "As I have said, the Proxy Queen is unable to hold an audience with petitioners at this time. There are other affairs that require her attention."
Majdeema : "And when will your ever busy Proxy Queen see us?"
Galdrus Hlarys : "Does she even intend on receiving our petitions? Or does she cast us aside, like the rest of you High Elves?"
Talinturil : "Many affairs compete for the Proxy Queen's attention. The complaints of newcomers do not rank as a matter of priority, simply put."
Elagaer : "How dare you dismiss me, as though I was some commoner! I refuse to leave this spot until my petition is heard."
Majdeema : "And me as well!"
Galdrus Hlarys : "The same goes for me!"
As soon as you move pass the scene, all participants disappear, only to reappear the next time you come to the palace.