Online:Dulcilla Iullus
The UESPWiki – Your source for The Elder Scrolls since 1995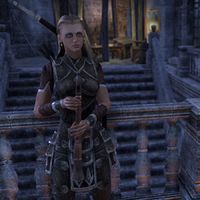 Dulcilla Iullus is an Imperiallegionnaire found at the Improvised Garrison in the Nobles District.
Related Quests
[
edit
]
Dialogue
[
edit
]
She can be found playing the flute. She seems cheerful despite the carnage outside.
"Well? Any requests?"
How can you play the flute at a time like this?/Is this really the time to be playing a flute?
"You mean when our cities burn? Our citizens suffer? My friends bleed and die as the armies that could save us squabble among themselves?
Let me ask you something. What better time is there to bring a little joy into this gray world?"
Were you a musician before the city fell?
"Not a very good one. Mostly, I won archery and drinking contests. It all seemed so mundane at the time. I never thought I'd miss it.
All I want to do now is make the lives of my friends a bit brighter before the end. That's something, isn't it?"
After you discover she's immortal, you can ask her further questions.
"They say the young think themselves immortal, but I never did. Until now. That's funny, isn't it?"
Does becoming immortal bother you?/Does it bother you to be immortal?
"It did, at first. This isn't the most pleasant place or time to live forever.
But in the last few weeks, I've accepted my fate. I can fight for my friends without reservation. I can save people even if it costs me my life … and then do it again."
So your focus is the people?
"Of course. This is just a building. What good is a house without kind hearts and song to warm it? If suffering … whatever this is, helps innocent people survive, I suffer it gladly.
Also, there are perks. Who wouldn't want to be young forever?"