Online:Desh-Wazei
The UESPWiki – Your source for The Elder Scrolls since 1995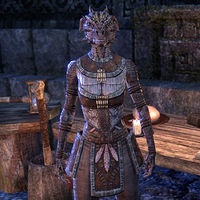 Desh-Wazei is an Argonian farmer found in the settlement of Haj Uxith. Her duty is to tame the desolate land of Coldharbour and scrape what she can from its barren fields to feed her tribe. She must be consulted during the Trial of Spirit during Wisdom of the Ages.
Related Quests
[
edit
]
Dialogue
[
edit
]
"Are you here for the Trial of Spirit? Then know that I am but a humble farmer, dealing with whatever this strange land throws at me so that I can provide food for my people."
I have an amulet to give to you.
"One of Xohaneel's necklaces, I assume. And which one do you think matches my pragmatic outlook on life?"

<Give Desh-Wazei the Amulet of Courage.>

"No, that isn't for me. That amulet belongs to someone who bravely attempts to negotiate agreements both within and outside our community."

<Give Desh-Wazei the Amulet of Endurance.>

"Thank you. I deal with the hardships of coaxing food from this foul land. Without my dedication, who knows what my people would be eating.
Please, take this Gem of Endurance. You'll need it when you go to the top of the pyramid."

<Give Desh-Wazei the Amulet of Preservation.>

"No, I can't take that. That amulet is meant for someone who maintains our hallowed traditions."
After the quest:
"I toil and sweat, but this foul land provides few bounties."