Online:Dalmi Dorvayn
The UESPWiki – Your source for The Elder Scrolls since 1995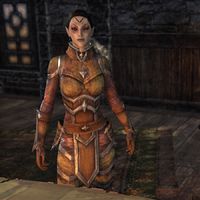 Dalmi Dorvayn is a Dunmer member of the Dragonstar Caravan Company found at their local headquarters in the city of Evermore.
Dialogue
[
edit
]
"Honor to you, traveler. You don't look like one of those poor devils out on the street. But if you've come for work, I'm afraid there is none to be had."

What is this place?/So what is this place exactly?
"You've found the elegant western headquarters of the Dragonstar Caravan Company. Congratulations. Try not to trip over the crates."

I haven't much about your company.
"Well, discretion is one of the many services we offer to potential employers."

What do you do exactly?
"Shipping goods overland presents all manner of hazards, f'lah. Highwaymen, customs inspections, legal entanglements. Our highly trained professionals...grease the wheels."

So business is good?
"As we say in the caravan trade, trouble someplace just means more travel to someplace else. And let me tell you, right now plenty of people in Evermore are interested in sending their goods—or themselves—someplace else."

But you have no goods to ship.
"Oh, there are always goods to ship, my dear. Screaming children, old women, whatever meager trinkets these poor fetchers can jam into their pockets. There are lots of citizens interested in a trip to Craglorn. Fares are up!"