Online:Carius Plebo
The UESPWiki – Your source for The Elder Scrolls since 1995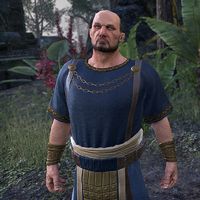 Carius Plebo is an Imperial can be encountered near the Blackrose Prison Wayshrine. He made a fortune selling Argonian relics in Lilmoth but recently lost his coin purse. It was found by Okaw-Neeus who refuses to give it back.
Dialogue
[
edit
]
As you approach them, you will overhear them arguing over the ownership of the coin purse.
Carius Plebo: "You sniveling snake. That's my coin purse and you know it!"
Okaw-Neeus: "Your coin purse? It is I who found it. And so, it is now my coin purse."
You can then ask Carius for his side of the story.
"This bag of scales picks my coin purse off the ground, and suddenly it's his? I've never heard of such a ridiculous thing!
Bah. Just my luck I run afoul of a Root-House lizard."
A Root-House lizard …?
"The whole tribe is filled with nothing but thieves. I can't believe they even get away with it! The other villages should have put a stop to them long ago.
And now here I am, an innocent traveler getting robbed blind!"
So he refuses to give you back your coin purse?
"Exactly! Do you know how many relics I had to sell to earn that gold? How many xanmeers I had to scour, how many traps I had to dodge?
By all rights, that coin purse is mine! I refuse to be intimidated like this!"
So you sold Argonian relics to earn that gold?
"Yes? And? I assure you, the Argonians don't care about those relics in the least.
Gold, on the other hand, they seem to have all the interest in the world. So much so that they would steal it from the hands of innocent folks!"
I don't think you're going to win this fight. Better to give up.
You're right. I'll never get this lizard to agree to common morals.
I just have to find some guards! That's what I'll do. I'll go to the nearest town and find someone who will help me bring him to justice!
I agree. Keep up the good fight. (Ends conversation)
If you convince Carius to let it go for now, he will decide to look for some guards to help him.
Carius Plebo: "Fine. You may have won this round, you thieving snake, but you'll get what's coming to you!"
Okaw-Neeus: "If the Hist wills it so, flat-tooth. But I shall not hold my breath over such a thing."
Carius will thank you saying, "Thank you for letting me see reason. I could never take on this ruffian alone. If I want justice to be done, I'll need to find support!"
On the other hand, if you intimidated Okaw-Neeus into giving the the gold back, then the following will happen:
Okaw-Neeus: "Here is your coin purse. Lucky for you that someone would take pity on your spineless self."
Carius Plebo: "Finally! Took you long enough."
Carius will be surprised you got Okaw-Jeeus to hand the purse back, "I can't believe you got him to agree. Thank you, friend! It's good to see someone with a sense of justice in these swamps."