Online:Barazal
The UESPWiki – Your source for The Elder Scrolls since 1995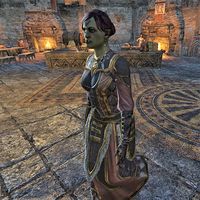 Barazal is an Orc located in Scarp Keep in the city Orsinium, and one of the wives of the King of Orsinium.[verification needed — see talk page] It is impossible to interact with her.
At the completion of A Feast to Remember, Barazal will appear in Orzorga's Inn:
Barazal : "You are Orzorga, master of Orc cuisine?"
Orzorga : ""Master?" I … yes, that's me. And you are?"
Barazal : "Barazal, hearth-wife to the king."
Orzorga : "Oh! Welcome to my kitchen. Can I get you something? Perhaps some candied chub loon? Fresh from the oven!"
Barazal : "No, I have business in Orsinium … yet I expect you to join me there shortly. I want you to cook the feast that will honor my husband. Can you do this for the king of the Orcs?"
Orzorga : "Of course. It shall be a feast to remember!"
Related Quests
[
edit
]