Online:Aliskeeh
The UESPWiki – Your source for The Elder Scrolls since 1995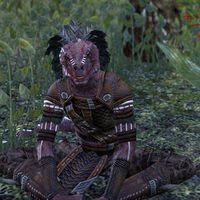 Aliskeeh is an Argonian from the Bright-Throat Tribe who can be found just outside Bright-Throat Village. As it is a hectic time at the village due to the pending bonding ritual, he is staying out of the way till things calm down.
Related Quests
[
edit
]
Empty Nest: Investigate strange occurrences at the Bright-Throat egg nursery.
Dialogue
[
edit
]
Empty Nest
[
edit
]
Aliskeeh can be found sitting outside the village gates. If you're not an Argonian:
"Come for the bonding ritual? Not to partake, obviously. You're early either way. You might want to make yourself scarce until it's actually time for the ceremony."
If you are an Argonian:
"Come for the bonding ritual? You don't bear the trappings of any of the local tribes. Doesn't matter either way, you're early. Now might not be the best time to partake in Bright-Throat hospitality."
Why is that?
"The bonding ritual is very important to the tribe. Everyone is under a lot of pressure to make sure everything is perfect.
There's some commotion in the village right now. Raised voices, tempers high. Not the best time for visitors."
Maybe I could help?
Aliskeeh can then be asked some questions about the importance of the ceremony and his tribe.
"I'll just stay out here until things settle down. If anyone asks, I'm hard at work, gathering plants for the ceremony."
What can you tell me about your tribe?
"You've never heard of the Bright-Throats? We're very well known in Murkmire. Our crafts are highly sought. We trade with most of the tribes. Lilmoth too.
That's why the bonding ritual is so important, it renews our ties to the other tribes."
What is this bonding ritual exactly?
"A marriage, you would call it? No, a honeymoon! I think. We choose who will lay and sire the next clutch of our eggs. We Bright-Throats invite the other tribes to send envoys and bond with our tribe. Without them … it would be bad."
Thanks for your time.
After starting the quest, once you enter another area and return, Aliskeeh will no longer be there.