Oblivion:Redguard Valley Cave
The UESPWiki – Your source for The Elder Scrolls since 1995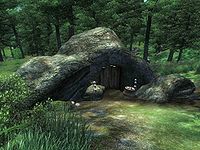 Redguard Valley Cave is a small cave between Chorrol and Skingrad containing ogres (quest-related). It contains only one zone, Redguard Valley Cave.
Related Quests
[
edit
]
This cave can be entered and fully explored before starting the related quest. In this case, however, the Ogre Chieftain involved in the quest and the Honorblade of Chorrol he carries won't appear.
The occupants are all a special leveled variety of ogre, Redguard Valley Ogres, which are only found in this cave and near Weatherleah. All of the ogres except the chieftain will respawn.
Exterior
[
edit
]
The exterior is located at coordinates: Tamriel -15, 12
This location's map marker (M on map) is named Redguard Valley Cave (editor name RedguardValleyCaveMapMarker). The entrance door is SSW of the marker, 40 feet away.
0-2 Goblins are near the entrance
1 Wilderness Creature (Forest variety) is near the entrance
The following plants can be found near the entrance: 12 Clouded Funnel Cap plants, 1 Flax plant, 17 Fly Amanita plants, 1 Green Stain Cup plant, 12 Monkshood plants, 1 Motherwort plant, 9 Somnalius plants, 10 St. Jahn's Wort plants, 39 Steel-Blue Entoloma plants, 9 Summer Bolete plants, and 38 Viper's Bugloss plants
Zone 1: Redguard Valley Cave

[

edit

]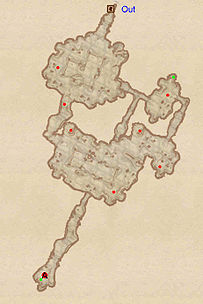 This zone contains two paths to reach the end room where, if Sins of the Father is active, you will find the Ogre Chieftan [sic] (A).
The first route takes you through two large chambers and a smaller one until you reach a long tunnel that leads you to the last room. By taking this path you will encounter all of the seven Ogres. Be wary in the second, larger room as you could end up fighting with up to four Ogres.
The second path is a series of tunnels which in the end link up to the long one that brings to the final room. This route can be accessed from the middle sections of the first and second rooms (which are on a lower level). If you take this path you probably won't need to fight any enemies, depending on where you accessed it.
Occupants:
Treasure:
Doors and Gates:
There is one door (at Out) in/out of this zone, leading outside