Skyrim:Lami
The UESPWiki – Your source for The Elder Scrolls since 1995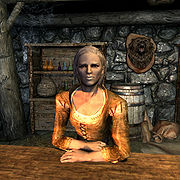 Lami is a Nord apothecary and the proprietor of the Thaumaturgist's Hut, an Alchemy shop in Morthal. During the day she can be found there until the shop closes at 8pm, when she will head to the house she lives in with her husband Jorgen.
If asked, Lami will tell you she started learning alchemy years ago, from a copy of Song of the Alchemist. She'll add that she misses having a copy of that book; you may tell her you'll bring it to her if you find it. As a reward she will give you a free lesson in Alchemy (adding one point to your skill) and let you take any of the lower valued items in her shop.
She is the common trainer in Alchemy.
She wears a belted tunic and a pair of boots, and is equipped with an iron dagger. She carries the key to her house, the key to her store, a torch, and a selection of common loot and gold.
Related Quests
[
edit
]
Rare Gifts: Do a favor by finding a rare item. (radiant)
Laid to Rest: Investigate a tragic house fire, and discover an insidious plot against the town.
Dialogue
[
edit
]
Lami may have some short conversations with Idgrod at her shop:
Idgrod: "I like your shop, Lami."
Lami: "Thank you, dear. It must be nice to get out of the hall every now and then."
Idgrod: "Oh, I quite like living in the hall. Mother says it's an honor to live there and serve Morthal."
Lami: "Oh, of course! I'm sorry, I didn't mean to say that it's not."
Idgrod: "Morthal will be mine to govern someday. I have a great deal to learn."
Lami: "Yes, I'm sure that's true."
Since Lami doesn't live in her shop, she may not be there when the store should open at 8am. She doesn't leave her house until around 8am and it may take her up to an hour to walk there. She won't offer services until she's inside.
Milore Ienth was once Lami's apprentice.
Lami is a very good friend of Alva, and will become very rude towards you (-2 relationship, Foe) if you kill Alva, even in self defense.