Online:Voices in the Dark
The UESPWiki – Your source for The Elder Scrolls since 1995
This page is currently being rewritten as part of the Online Quest Project.
The page is being both written and checked. All users are welcome to make changes to the page. If you make a change that is relevant to the project, please update this template accordingly, and make sure you have observed the project guidelines.


Rumors abound that the Dark Brotherhood, assassins of legend, are on the lookout for members worthy to wield their killing blade. This might be why so many innocents have been murdered of late.
Quick Walkthrough
[
edit
]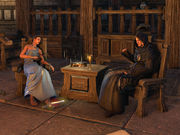 Meet Amelie Crowe at any Outlaws Refuge, or receive quest through the Collections tab.
Travel to Anvil.
Talk to Amelie Crowe near the docks (if you took the quest via the Collections tab)
Kill an innocent.
Speak to the messenger and head to the Anvil Lighthouse.
Talk to Speaker Terenus.
Detailed Walkthrough
[
edit
]
A new arrival at the outlaw's refuge has grown tired of the Thieves Guild. Amelie Crowe admits to the desire to kill people and wishes to join the Dark Brotherhood to legitimize her kills. She thinks of you as a kindred spirit in this regard and suggests you come along to Anvil and try to get noticed and invited.
When speaking to Amelie—either at the Anvil docks or in an Outlaws Refuge—she reveals how exactly you should get noticed—murder an innocent civilian. There is no other way to join the Brotherhood, so look for an isolated civilian and murder them. Once you have done that return to Amelie. She has disappeared but a courier will call out to you. Go over to him and he will deliver a note and tell you to go to the lighthouse. The note is the Black Hand, the sign that the Brotherhood has noticed your activities.
Make your way to the lighthouse and enter. Sitting in one of the seats is Speaker Terenus. He will explain what it means to join the Brotherhood and ask you to decide if you want to join. Once you accept he gives you the gift of the Blade of Woe, a method of one-strike killing. He also gives you a task to prove yourself worthy of joining before he lets you into the Brotherhood's sanctuary.
If you accept the quest from the Collections tab you will be directed to travel to Anvil first and then talk to Amelie. She will have different dialogue in this case.
Quest Stages
[
edit
]
Voices in the Dark
Finishes Quest
Journal Entry
Word around town suggests that the Dark Brotherhood is seeking recruits in Anvil, a city on the Gold Coast. I should travel to Anvil and see if the rumors hold any truth.

Objective: Travel to the Gold Coast

Objective Hint: Use a Wayshrine or Boat to Travel to Anvil

I arrived on the Gold Coast. Now I should head to Anvil and see if anyone can provide me with more details concerning the rumors about Dark Brotherhood activity in the city. (If you accepted the quest through the Collections tab)

Objective: Inquire About Rumors in Anvil

It seems that the best way to get the attention of the Dark Brotherhood is to kill an innocent person in cold blood. If I'm going to do this, I should go to Anvil on the Gold Coast and see if they think I'm worthy to join them.

Objective: Kill an Innocent in Anvil

I murdered an innocent in Anvil, just as Amelie suggested, but other than the spilled blood and having a sense of being watched, nothing happened. Maybe Amelie has an idea about what I should do next. She said I could find her near the Anvil docks.

Objective: Search for Amelie Crowe Near the Anvil Docks

I couldn't find Amelie, but a courier approached me. I should see what the courier wants.

Objective: Talk to the Courier

I received a mysterious letter and an invitation to visit the lighthouse south of Anvil. I should go and find out if this has anything to do with the Dark Brotherhood.

Objective: Go to the Anvil Lighthouse

Optional Step: Read the Letter

There's someone waiting for me inside the Anvil Lighthouse. I should talk to him.

Objective: Talk to Speaker Terenus

I should speak with Speaker Terenus and find out more about why I was invited to come here.

Objective: Talk to Speaker Terenus