Online:Cleaning House
The UESPWiki – Your source for The Elder Scrolls since 1995
This page is currently being rewritten as part of the Online Quest Project.
The page is being both written and checked. All users are welcome to make changes to the page. If you make a change that is relevant to the project, please update this template accordingly, and make sure you have observed the project guidelines.

Zeira, the guildmaster of the Abah's Landing Thieves Guild, believes someone sold out the guild to the Iron Wheel. She needs my help to deal with the matter.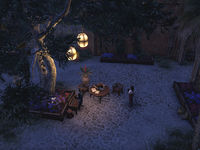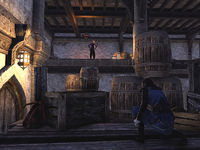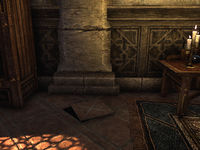 Quick Walkthrough
[
edit
]
Talk to Zeira in the Thieves Den.
Meet Zeira by the flooded district of Abah's Landing.
Recover Silver-Claw's ledger from his old warehouse.
Escape the warehouse and return to the Thieves Den.
Detailed Walkthrough
[
edit
]
Quest Stages
[
edit
]
Cleaning House
Finishes Quest
Journal Entry
I should speak with Zeira in the Thieves Den.

Objective: Talk to Zeira

Zeira thinks a former guildmate is responsible. Velsa should be at her home in the flooded district of Abah's Landing. When I'm ready, I should meet Zeira outside the flooded district.

Objective: Meet Zeira Outside Abah's Landing

When I arrived outside the flooded district of Abah's Landing, an Iron Wheel messenger staggered out of the alley and collapsed. I should speak to Zeira.

Objective: Talk to Zeira

Zeira realized the Iron Wheel and Velsa are not allies. Zeira wants me to find Velsa, warn her of the Iron Wheel, and convince her to return to the Thieves Den.

Objective: Find Velsa's Villa

It's a short jump into Velsa's private garden. I should speak with her there.

Objective: Enter Velsa's Garden

I should warn Velsa that the Iron Wheel is searching for her.

Objective: Talk to Velsa in Her Garden

Velsa will head to the Thieves Den if I help her repay a favor. I should meet Velsa outside Silver-Claw's warehouse.

Objective: Meet Velsa Outside Silver-Claw's Warehouse

Optional Step: Talk to Silver-Claw

I should enter Silver-Claw's warehouse through the rear window.

Objective: Enter Silver-Claw's Warehouse

Now that we're inside Silver-Claw's warehouse, I should speak with Velsa about how best to proceed.

Objective: Talk to Velsa

Velsa wants me to distract Foreman Torkming. I should throw this "stink apple" at him. Once he's distracted, I should be able to slip past him into Silver-Claw's old office.

Objective: Distract Torkming

Optional Step: Throw Velsa's Stink Apple

I should search the warehouse office for Silver-Claw's Ledger.

Objective: Search Silver-Claw's Office

I need to steal Silver-Claw's Ledger from the office.

Objective: Steal Silver-Claw's Ledger

Velsa heard someone approaching Silver-Claw's office. I should find a place to hide.

Objective: Hide in Silver-Claw's Office

Velsa's distraction worked. I should escape the warehouse before anyone return to the office.

Objective: Escape Silver-Claw's Warehouse

I should return the ledger to Silver-Claw at the Thieves Den.

Objective: Return Silver-Claw's Ledger

Optional Step: Talk to Velsa

I should speak with Zeira in the Den about Velsa.

Objective: Talk to Zeira