Skyrim:Valindor's House
The UESPWiki – Your source for The Elder Scrolls since 1995
This article is being developed as part of the Skyrim Houses Redesign Project. If you see this tag it means the article can still be improved. Please see the project page for guidelines.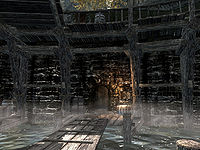 Valindor's House is a house which is owned by Valindor.
It is located on the lower levels of Riften, alongside the canal which flows through the city. It is next door to Marise Aravel's House, and below the Temple of Mara.
Residents
[
edit
]
Walkthrough
[
edit
]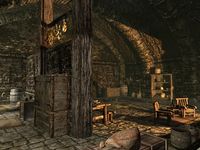 This is a single room dwelling, with a partial wall dividing it into separate areas. The main living space consists of a fireplace against the east wall, two chairs pulled up in front, a small table with a bottle of wine on it between them, and a cooking pot on the hearth. Along the north wall, a set of shelves holds two bottles of Nord mead, a sweet roll, several potatoes, an apple pie, several pieces of cheese, and a bottle of Alto wine. Against the west wall is a dresser, with a copy of the book Of Crossed Daggers on top. A dining table, a bench, some barrels and some sacks of food stand beside the partial wall; hanging above are two garlic braids, two bunches of elves ear, and two bunches of frost mirriam. The table is lain with a baked potato, a portion of grilled leeks, a loaf of bread, an Eidar cheese wheel, a bottle of Alto wine, and a bottle of Nord mead.
Beyond the partition is a sparse bedroom, comprised of an owned, single bed; on an end table beside it lies a copy of the book Horker Attacks. To the right is a wardrobe, storing clothes; opposite this, along the south wall, is an unlocked wooden chest containing minor loot.
There is a Loot shadowmark on the left doorstep.
Once you have joined the Thieves Guild, a barrel that is carved with the Cache shadowmark appears opposite the entrance, on the walkway that travels alongside the canal.
If you infect Valindor with vampirism during the New AllegiancesDG quest, a coffin will appear in his house[verification needed — location?] and can be used to sleep and get the vampire rested bonus. Valindor does not seem to use it however, and will still sleep in his old bed.