Skyrim:Shadowrend
The UESPWiki – Your source for The Elder Scrolls since 1995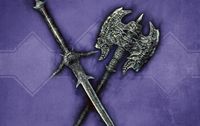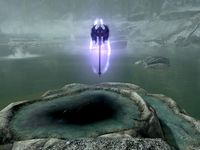 Shadowrend is a Creation that adds the eponymous Shadowrend weapon. It was released on April 5, 2018 for 300 CC Credits.
The quest added by this Creation was made by unoctium.
Official Summary
[
edit
]
To obtain the legendary Shadowrend – an enchanted sword or battleaxe of tremendous power – you need only face the most worthy foe imaginable: yourself. Quest implemented by Richard "unoctium" Edwards (Quest "Through a Glass, Darkly" starts by claiming the weapon in the hot springs near the Atronach Stone.)
Overview
[
edit
]
This Creation adds Shadowrend, a weapon which originally appeared in the Shivering Isles expansion for TES IV: Oblivion. There are two versions of the weapon, a greatsword and a battleaxe, but you can only possess one at a time. Upon installation, the quest Through a Glass, Darkly will begin and you will be directed to a geyser pool in Eastmarch where you must defeat a shadowy clone of yourself in order to claim Shadowrend. After completing the quest, you can return to the geyser at any time to switch between the two versions of the weapon.
Content
[
edit
]
NPCs
Quests